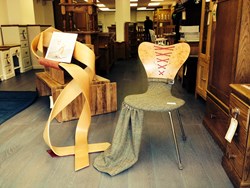 We are really lucky to have such excellent quality craft and design on display.
(PRWEB UK) 26 September 2013
AFOBI Showcases Original Designs by Emerging Talent Faye Murphy
Bespoke furniture retailer AFOBI is excited to announce they are collaborating with emerging young furniture designer Faye Murphy and showcasing her latest innovative pieces at their new shop in Muswell Hill, London.
One month after celebrating the opening of their first high street location in Muswell Hill, sustainable furniture shop AFOBI is now showcasing two original pieces by up-and-coming furniture designer Faye Murphy, which were recently exhibited at the London's most renowned graduate exhibition for emerging talent, New Designers.
Two of the standout pieces were created as part of Murphy's course at Buckinghamshire New University, including the Serendipity - a contemporary desk where an iPad has superseded paper, representing the ways in which the tablet has changed the way people work, connect and interact in the digital world.
Murphy's statement dining chair, Femasc, was inspired by her dissertation which focused on exploring gender in design. The high-back chair, made from an old beech ply chair with a elm veneer, balances the contrast and unity between masculinity and femininity.
Murphy is delighted by the positive feedback she has received since showcasing her work at AFOBI, stating: "I was extremely excited for AFOBI to be displaying my work in the shop window. To be given the chance to team up with a company that appreciates beauty and affordable design was a great opportunity."
Zack Newman, Founder of AFOBI, said, "We are really lucky to have such excellent quality craft and design on display. Faye's work has captured the imagination of Muswell Hill; residents have been coming in to the shop to find out what the pieces are about. We expect to sell both works very quickly."
AFOBI specialise in offering affordable bespoke furniture and have recently opened a new store at 474 Muswell Hill Broadway, London N10 1BT. Faye Murphy's designs will be on show throughout September and local residents as well as furniture enthusiasts are invited to stop in to view the collection.
About AFOBI
AFOBI stands for Affordable Furniture of Beauty and Integrity. The business was founded in 2012 by former forestry worker Zack Newman with the intention of offering affordable, sustainable furniture designs to consumers, and currently trades online and from two London showrooms in Forest Gate and Muswell Hill. The majority of products are sourced from Forest Stewardship Council (FSC) certified suppliers, a non-profit organisation that promotes responsible management of the world's forests. The range includes traditional and modern designs of free-standing kitchen, living room and bedroom furniture as well as fitted kitchen and bathroom furniture and a bespoke design service. AFOBI also supplies sustainably sourced solid wood flooring in a number of finishes. For more information please visit http://www.afobi.com.