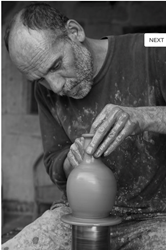 Creating the painting on water is simply magical during a session of paper marbling.
Cappadocia, Turkey (PRWEB) September 27, 2013
Tolga Akarcali, managing partner of the remarkable and unconventional vacation lodging, the Taskonaklar Boutique Hotel, has received funding from Ahiler Development Agency to support Turkey's tourism and strengthen its cultural and social development.
Pottery is a long lasting tradition in Cappadocia due to the Kızılırmak river (Red River) in the region providing the necessary clay. Therefore, pottery and pottery shops have also become a major tourist attraction in Cappadocia. By providing private workshops at hotel's relaxing atmosphere, Taskonaklar enables their guests to enjoy this tradition to upmost.
Similarly, paper marbling has an important part in Turkish traditions and art. The process of creating the art on water is simply mesmerizing and its an experience that catches you as magic!
The Ministry of Development was founded in 1960 to support Turkey's economic, social and cultural effort. Using a holistic approach, which includes national, regional and local investment programs and action plans, the Ministry of Development helps the country to improve the quality of life for its population and tourists.
"I'm honored to receive this funding from Ahiler Development Agency to contribute to the historical and cultural development of Cappadocia, this unique UNESCO Heritage site where Taskonaklar Boutique Hotel is located," stated Akarcali. "Receipt of this funding provides an opportunity to strive to keep Turkish traditions alive and to secure new sources of income for the region."
The Taskonaklar Hotel has decided to use a great amount of the fund towards educating tourists about the magical art and science of Turkish pottery-making techniques and paper-marbling methods. The pottery workshop and the making of marbled papers will be a part of an introductory program to prehistoric Turkish traditions, and both courses will be held at the Taskonaklar Boutique Hotel. Certified local instructors will come to the hotel weekly to instruct tourists on how to master the basic pottery and paper-marbling procedures. Akarcali has also chosen to use the fund to help restore some of the ancient ruins.
"Restoring these ancient ruins is part of the mission of the Ministry of Culture; to protect Turkey's history and promote its significance to the world's cultural and natural heritage," stated Akarcali. "The ruins are being restored by Taskonaklar's own experts, who have experience in previous historic renovation and restoration projects. When the restoration is completed, we plan to remake the ruins into high-end suite rooms and common areas, including a salt room, sauna and relaxation room."
About Taskonaklar
Taskonaklar is a uniquely handcrafted boutique hotel in Cappadocia,Turkey, that blends nature, history and local traditions. It has been designated by the United Nations Educational, Scientific and Cultural Organization (UNESCO) as a National Heritage Site.
Hotel rooms combine subterranean spaces, rough-hewn walls, and stone archways with open terraces and balconies that offer incredible views of the local landscape. Modern amenities are included. The hotel also provides meals and organized activities.
For more information, visit http://www.taskonaklar.com or contact the hotel at info(at)taskonaklar(dot)com or call +90 384 219 30 01.