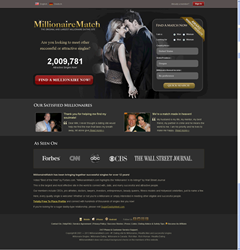 Los Angeles (PRWEB) September 27, 2013
MillionaireMatch.com is an online dating website for wealthy singles to meet other wealthy singles. In an effort to continue advertising their services, MillionaireMatch is setting up a Micro Film plan using two models that represent the website. Through their email advertising efforts MillionaireMatch sent 524,000 emails to members throughout the United States and got almost as many 79,332 responses in return.
A country wide search is helping MillionaireMatch find the two members that can best represent the company in future advertising campaigns. They are doing this because they have been in the business of helping wealthy individuals meet each other for friendship or a romantic relationship for 12 years now and they want to further expand their database of millionaire members.
People often are drawn to other people's success stories. It is the goal of MillionaireMatch to share the two best success stories that have come out of the company's matchmaking efforts in an effort to get more people to sign up for their services. This is the entire reason why the Micro Film plan is being put in place by Millionaire Match.
Promoting MillionaireMatch is a great way to get people to realize how successful this dating service has been in its recent history. This is why two members will be chosen in order to represent the company. MillionaireMatch cares very much about helping wealthy individuals find someone that they can trust and love unconditionally.