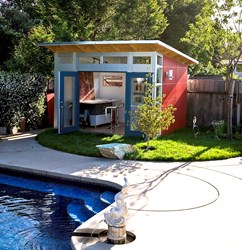 When it's party time, many people put their backyard shed to use to house the bar and refreshment area.
Louisville, CO (PRWEB) September 27, 2013
When celebrating Oktoberfest this year, don't forget to pick up a backyard shed along with the beer. To celebrate the Bavarian festival that has been adopted by most of the beer-loving world, Colorado-based Studio Shed, a manufacturer of pre-fabricated, hi-efficiency, hi-design backyard sheds that ships and installs nationwide, is holding an Oktoberfest sale through October 13 with an average savings of around $1,200 per order.
"Oktoberfest is historically a celebration of beer and good food," said Studio Shed's Jeremy Horgan-Kobelski. "In the U.S., it's become another fun reason for partying with a backyard barbeque. A shed can be a major improvement to backyard living, so we're linking our fall sale to Oktoberfest this year."
The sale offers 15% discounts on sheds up to 10-foot x 12-foot, and 10% off on any larger model. To take advantage of the sale visit http://www.studio-shed.com and follow the sale link or go to the online Shed Configurator tool. The discounts apply to the price of the model as ordered, including any upgrades, but do not apply to shipping or installation.
Thus a 10-by-12 foot Lifestyle model with finished interior, priced at $10,750 ($89/sq. foot) carries an Oktoberfest sale price of $9,138 ($76/sq. foot), plus shipping (starting at $950) and installation (starting at $1,550 for a regional certified Studio Shed installation team). A 10-by-12 foot Storage model that comes with unfinished interior, a steel door and clerestory windows starts at $7,200 ($60/sq. foot) or at $6,120 ($51/sq. foot) during Oktoberfest, plus shipping (starts at $945) and installation (starts at $950). Optional upgrades are available for all sheds and easily selected and priced on Studio Shed's online Shed Configurator. Garage models and DIY kits are also available.
Studio Shed structures are used for everything from simple storage sheds, to home offices and studios, to poolside entertainment areas. "When it's party time, many people put their Studio Shed to use to house the bar and refreshment area," says Horgan-Kobelski.
The Louisville, Colo. firm ships nationwide and installs everywhere but Florida, Alaska & Hawaii, where units are sold as DIY kits. Typically, an installation takes one to four days, depending on shed size. In many communities permits are not required for these structures. Where zoning is an issue, Studio Shed can help there too.
Studio Shed is committed to environmental stewardship and building spaces that are both healthy and comfortable. Its production facility and offices are sustainably powered. Every Studio Shed model is constructed from a variety of green building materials, including FSC-certified lumber, metals with high recycled content, denim insulation, cork flooring and low-VOC paints. There are no dumpsters on Studio Shed sites. Shed construction waste usually fills a large garbage can, before it is sorted for recycling.