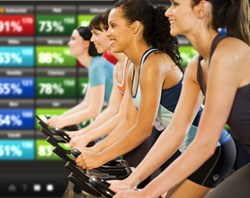 Providing students with real feedback motivates them and gets them to focus on putting in the effort required
Bozeman, MT (PRWEB) September 27, 2013
Managing physical education classes can now be much more scientific and affordable thanks to breakthrough development of the Polar H7 Team Bundle according to the Heart Rate Watch Company.
"The Polar H7 Team bundle combines an app on your iPad with Polar H7 chest straps," says Rusty Squire, President of the Heart Rate Watch Company. He adds, "This allows you to see the exact intensity of all members of a class all at the same time if they are within 50 meters of the iPad."
Adding Science to Fitness
"Without knowing heart rate relative to an individuals age, height, weight and sex, exercise becomes guesswork," says Squire. He adds, "Providing students with real feedback motivates them and gets them to focus on putting in the effort required."
How It Works
"Simply download the complimentary Polar Team app from the iTunes store onto your iPad and buy the correct number of Polar H7 transmitters with chest straps," says Squire. He adds, "Now you can watch all your students intensity levels in real-time and know who is really putting in the effort."
Gym Class Instruction
Now local gyms, spinning class instructors and class instructors have an easy, affordable way to manage their classes for better results and all it takes is an iPad. "Instructors can ask members of the class to each individually buy their own Polar H7 chest straps."
"This technology is now so much more affordable than it ever has been," says Squire.
Use Individual Profiles With Historic Data
"You can store individual student profiles with their historic data going back to the beginning of the class to show them exactly how they are improving," says Squire. He adds, "These types of systems used to cost thousands of dollars and were used mostly by professional sports teams."
"Today you can put these systems in pace for just the cost of some chest straps and an iPad, which most schools already have access to," says Squire. He adds, "This takes the ability to manage physical education to a whole new level and greatly increases teacher effectiveness."
How to Get Your School Set Up
"To get your school started simply call the Heart Rate Watch Company at 866-586-7129 and we will walk you through everything," says Squire. He adds, "We have decades of experience working with student/athletes and can guide you to the right solution that will get results."