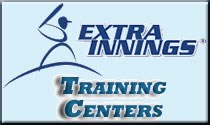 Wakefield, MA. (PRWEB) September 27, 2013
Code2Action's proprietary mobile media platform enables all 36 Extra Innings multifaceted retail locations the ability to effectively communicate build KEYWORD specific opt-in databases via text/sms of current and new customers as well as target audiences such as parents, coaches and organizers of little league, AAU and softball organizations nationally.
With video content dominating the marketplace Code2Action is providing a new way in which companies showcase their products and services. Code2Action has extensive experience in creating audio/video messages and has seen the benefit companies have received by choosing to use video paired with mobile media. This is a unique way to showcase the product content but the medium in which it is delivered is more reachable to the consumer.
Code2Action subscribers can create branded Audio/Video campaigns with relevant keywords to engage customers while capturing mobile data. A simple scan or text message puts the product demonstration in the consumers hand to engage in real-time. The captured data will allow the company to reach back out to the consumer with future offers or information about new or existing products.
About Extra Innings
Established in 1996, with 36 locations in 18 states nationwide Extra Innings is recognized as the premiere indoor baseball and softball organization. Extra Innings' state of the art Training Centers offer comprehensive strength and conditioning programs and fitness areas. Professionally designed and staffed to maximize the performance levels of all athletes.
Extra Innings offers year round indoor and outdoor professional baseball and softball instruction, staffed with former and current professional players, college all stars, college and high school coaches, that implement a teaching system to encourage positive progress and development.
Extra Innings indoor batting tunnels rented hourly and token operated indoor batting cages allow for customers to practice baseball or softball year round. The batting tunnels are separated by sliding nets with adjustable pitching machines to create an open field area for clinics and instruction.
The Pro Shop offers the latest and widest selection of baseball and softball gear featuring the newest equipment and apparel from all the top baseball and softball manufactures including: Nike, Nike Team Uniforms, Easton, Louisville Slugger, Rawlings, Wilson/DeMarini, Mizuno, Worth, Marucci and our own Extra Innings "play the game" line.
About Code 2 Action, Inc.
C2A a subscription based, in the cloud, mobile mobile marketing Company that has developed a proprietary mobile media platform provides the next step in mobile marketing and advertising solutions. This new and exciting mobile marketing platform enables businesses of all sizes to easily incorporate high-definition audio and video into their existing print advertising as well their existing social media campaigns using custom branded QRV codes (quick response video) and SMS Text short codes.
Through our technology platform, and augmented by the use of custom branded QR (quick response) codes and SMS short codes, C2A enables businesses to create unique customizable personal audio and video advertisements, commercials, podcasts and presentations that are accessible via smart phones worldwide. Similar to a traditional email campaign C2A builds an "OPT IN" database through either scanning or texting. Our exclusive and custom call to action pages will direct clients' customers to desired "actions" based upon the businesses' unique requirements. Typical actions would include: "purchase product or service," "download a discount coupon", "request a quote", "make an appointment, reservation or donation", "get directions or contact information", "see customer reviews and testimonials", "go to our website" or "go to any social media such as Facebook and Twitter". C2A has the ability to redirect to a custom mobile website which C2A designs and creates where the end user has the ability to save to their smart phone as an APP to their home screen.
The platform sequence is enables businesses to engage the viewer with a customized audio/ video message and drive the potential customer to a call to action page to transact. Every OPT-IN added to our customer's database can now be reached back via text/SMS with future deals, sales, mobile coupons, text-to-win campaigns, reminders, events and offers. C2A also has created a audio /visual experience like no other in the market today allowing the client to use a series of scrolling images, logos with a professional voice over which can be updated from anywhere in the world by simply leaving a voice mail.
For more information please visit Code2Action or text our short code number 71441 and in the message box enter the word C2A and send.
CONTACT:
Christopher Esposito or Scott Milbury
617-206-3300 or via email at info(at)code2action(dot)com