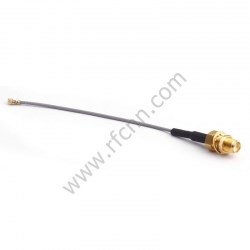 (PRWEB) September 26, 2013
Recently, RFcnn.com, a leading manufacturer and supplier of RF connector, has exhibited its new SMA cables at some trade shows. Today, the company launches a special offer for all these products, up to 31% off.
According to a senior engineer of RFcnn.com, the company's SMA cables are designed for use from DC to 18 GHz. SMA connectors, popular semi-precision coaxial RF connectors, have been widely used in the electronic industry. With the development of technology and science, the requirements for SMA connectors and SMA cables have become higher and higher.
"The discount promotion is aimed at attracting more customers and increasing market share. Please note that the promotion will end on Oct. 21, 2013," says, the CEO of RFcnn.com. "To achieve the best results, we have installed high end machinery and equipment at our production plant. Future growth opportunity in this market is expected to stem from the expansion of the electronic industry and commercialization for niche applications."
RFcnn.com is a well-known brand in the industry. The company also deploys strict regulations and quality checks that ensure that every product manufactured meets international standards of quality. Its products include N RF connectors, SMA RF connectors, Mini Balun IDC connectors, SMB RF connectors and more.
About RFcnn.com
RFcnn.com belongs to Zhenjiang Fourstar Electronics Co. LTD, which is a China based company that deals in producing RF connectors and passive devices. RFcnn.com has been a leader in the design and manufacture of RF connector products, offering a wide range of solutions and unmatched customer service for its clients worldwide.
More details about the company's high quality rf connectors can be found at http://www.rfcnn.com/SMA-Female-TO-U-FL-Cable-Assembly-Jumper-105.html