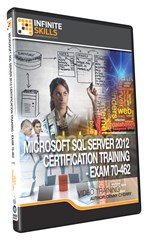 Learn Microsoft SQL Server 2012 Certification Training for Exam 70-462 at your own pace.
(PRWEB) September 28, 2013
Software training firm Infinite Skills Inc. last week introduced its "Microsoft SQL Server 2012 Certification Training - Exam 70-462 Tutorial," a course designed for database professionals seeking Microsoft's associate level certification.
One of three exams required for the certification, Exam 70-642 tests the ability to perform installation, maintenance, and configuration tasks, requiring not only a high level of knowledge about SQL Server, but also the ability to problem-solve and develop independent solutions based on a student's knowledge of SQL Server.
Infinite Skills' "Microsoft SQL Server 2012 Certification Training - Exam 7--462 Tutorial," teaches all the skill-areas covered in the exam, providing the detailed knowledge and understanding of SQL administrative functionality that allows database managers to think on their feet in developing maintenance solutions.
Microsoft SQL Server 2012 Certification Training - Exam 70-462 Training Video
Course author Denny Cherry is the owner and principle consultant for his own database consulting service. He has written or co-authored seven books, including his own Securing SQL Server, which is now in its second edition. He is recognized as a Microsoft MVP for SQL Server, and holds several certifications in the database administration area in addition to being a Microsoft Certified Trainer.
This expansive and detailed course covers topics from installation to security and availability, providing extensive detail in each area so that students can apply their knowledge to developing solutions in their own lab environment.
The course begins by explaining SQL Server 2012 setup, including stand-alone and cluster installs, and configuration. Cherry ten moves into maintenance, explaining how to create and maintain SQL instances and databases.
Next, he covers optimization and troubleshooting, explaining how to produce reports, diagnose locking and blocking issues, use the performance monitor, along with several other SQL maintenance tools.
The course then explores how to manage data with SQL Server 2012, explaining how to create mirrored and stripped backups, and perform many different kinds of restorations.
The course concludes with chapters devoted to security and availability. Here, Cherry covers logins and users, fixed and user-defined server roles, and permissions and certificates, before closing by exploring how to ensure high availability through database mirroring and using availability groups.
"As we run through this entire course," Cherry explains, "you're going to cover a lot of the components of the SQL Server Product. It's important to keep in mind that, while we will be covering all the content of this exam, the exam itself tests your ability to think on your feet. It is therefore critical that you experiment with what you learn here in your own lab environment."
Free demo videos and a full list of course contents can be found on the Microsoft SQL Server 2012 Certification Training - Exam 70-462 training page of the InfiniteSkills website:
http://www.infiniteskills.com/training/microsoft-sql-server-2012-certification-training-exam-70-462.html.
InfiniteSkills offers its Microsoft SQL Server 2012 Certification Training - Exam 70-462 Tutorial either as a DVD or a direct download from the company website at a retail price of $99.95. Though the compatibility of programs varies, all InfiniteSkills titles and formats are compatible with both Mac and Windows operating systems, and shipping is available around the globe. Additionally, InfiniteSkills tutorials are supported by project files which correspond to examples in the videos.
About Infinite Skills Inc.
A leader in the field of software training, Infinite Skills designs its courses on a task-oriented model, teaching complex skills by providing hands-on examples and guiding users as they carry out essential functions. Infinite Skills offers a wide range of software titles available as DVDs, digital downloads, and in iPad editions. Infinite Skills now offers a subscription service, providing access to all its training content for a monthly fee, keeping with company's aim of delivering professional training to customers anywhere they want to learn.