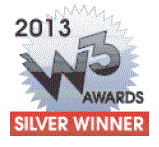 Hasbrouck Heights, NJ (PRWEB) September 26, 2013
The Winners of The 2013 W3 Awards have been announced by the International Academy of the Visual Arts today. Receiving over 4,000 entries, the W3 Awards honors outstanding Websites, Web Marketing, Web Video, & Mobile Apps created by some of the best interactive agencies, designers, and creators worldwide. Please visit http://www.w3award.com for a complete list of W3 Award Winners.
The Sama Agency took home two 2013 W3 Silver Awards. "We are thrilled to be recognized for our new branded website (http://www.sms-inc.com)," said Fran Sharkey, CMO of SMS Marketing Services/The Sama Agency (http://www.TheSamaAgency.com), a division of SMS Marketing Services, Inc. "Through our Data-Driven, Multi-Channel Marketing Services, we deliver authentic brand experiences that drive loyalty and achieve these customer connections through a deep understanding of customer behaviors. Our approach reveals meaningful insights to create strategies that engage the customer, building long-standing relationships," stated Sharkey.
"We were amazed at the caliber and quality of work we received this year. Our winners continue to push the envelope of Internet creativity and web design, and it is gratifying to see such great work from the smallest agencies to the biggest firms," said Linda Day, the director of the IAVA. "On behalf of the over 500 members of The International Academy of the Visual Arts, we are honored to recognize our winners as they continue to set a high standard of excellence for Web development."
About SMS Marketing Services:
SMS Marketing Services, Inc. works with leading brands, agencies, brokers and Fortune 500 companies delivering extraordinary, data-driven, multi-channel marketing solutions. SMS's data solutions of highly segmented marketing databases help refine the search for consumers who engage with brands. A leading provider of direct marketing lists—including SMS's Master Consumer file of 240 million U.S. consumers—SMS also boasts the largest instatement insert agency/broker in the nation. SMS's traditional list management, brokerage, and list fulfillment divisions manage more than 700 list properties and broker for over 200 mailers. For more information, visit http://www.sms-inc.com.