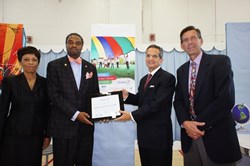 Newark, NJ (PRWEB) September 26, 2013
The Horizon Foundation for New Jersey and the New Jersey YMCA State Alliance announced today another milestone in their joint anti-obesity initiative – Healthy U - to help the next generation of children live healthier lives.
Established in 2008 as an after-school program and broadened last year to be taught at the pre-school level and introduced to the elementary school curriculum, Healthy U will mature this fall as a school-based program. After the award-winning, evidence-based curriculum was incorporated into the classroom settings of nine New Jersey elementary schools last year, it is being extended to an additional 15 schools this fall.
Positive results from the independent evaluation of the Healthy U program conducted by Dr. Jennifer Conroy, DRPH, MPH, in collaboration with The University of Texas Health Science Center at Houston, School of Public Health have spurred the program's expansion.
"Childhood obesity continues to be a significant challenge across New Jersey and our country," said Robert A. Marino, Chairman and CEO of Horizon Blue Cross Blue Shield of New Jersey and Chairman of the Board of The Horizon Foundation for New Jersey. "It is estimated that one out of five children will be obese by age six. That puts our children at an increased risk for heart disease, high cholesterol, high blood pressure and diabetes. Through Healthy U, Horizon and the New Jersey YMCA Alliance are collaborating to help children avoid these risk factors by eating right and staying active."
Over the last five years, with $3.45 million in grant support from the Horizon Foundation, Healthy U has become a three-pronged program to bring the lessons of good nutrition and an active lifestyle to children ages 3-13. As an after-school program, Healthy U impacts more than 20,000 children ages 5-13 at more than 400 YMCA sites. At the pre-school level, Healthy U is offered to more than 5,000 children ages 3-5, at 79 YMCA pre-schools. Last year, Healthy U began a three-year process of being incorporated into the daily curriculum of 50 New Jersey schools. Nine schools participated in 2012, and an additional 15 will participate in 2013.
During a kick-off event today at the Newark Y, children and staff at one of the 15 new schools – Quitman Street Community School in Newark – joined Horizon and Y officials in celebrating the next chapter of Healthy U.
"Through Healthy U, the YMCA mobilizes two thousand trained staff at 480 pre-school and after-school locations to help 25,000 school children and their families understand the importance of making the right nutritional choices and staying physically active," said William Lovett, Executive Director of the New Jersey YMCA State Alliance. "When the school-based component of the program is fully developed by 2015, an additional 15,000 school children will have been impacted, bringing Healthy U's reach to 40,000 school children."
The school-based program helps schools incorporate the CATCH curriculum in Physical Education, the classroom setting, the cafeteria, and throughout the school community. The philosophy is to promote, educate and create a culture for healthy living and help students make positive choices for physical activity and nutrition. The program also provides support to families for making good choices and lifestyle changes.
"Healthy U is a success story that would not be possible without the ongoing commitment and dedication of many individuals, the 41 YMCAs Associations and other organizations that came together for one purpose -- to improve the health and well-being of the children of New Jersey," Marino said.
Healthy U at-a-glance, Phase I (2008 – 2011):

$1.2 million Horizon Foundation for New Jersey grants
380 after-school Y sites
500 trained Y staff
19,000 children, ages 5-13 (12 or 13?)
Healthy U at-a-glance, Phase 2 (2012 – 2015):

$2.25 million Horizon Foundation expansion grant
400 after-school Y sites; 20,000 children ages 5-13
79 pre-school Y sites, 5,000 children, ages 3-5
School-based – 50 schools, 15,000 children
2,000 trained Y and other staff
Childhood obesity has become a national epidemic. Studies show that approximately one in five children is overweight or obese by the time they reach their sixth birthday. About one-third of youth in the U.S. are classified as being overweight or obese. Today's generation, for the first time in history, will have a lower life expectancy than that of their parents. New Jersey is third in the nation in obesity of youth ages 2-5 (pre-schoolers).
About Horizon Blue Cross Blue Shield of New Jersey:
Horizon Blue Cross Blue Shield of New Jersey, the state's oldest and largest health insurer, is a tax-paying, not-for-profit health services corporation, providing a wide array of medical, dental, and prescription insurance products and services. Horizon BCBSNJ is an independent licensee of the Blue Cross Blue Shield Association, serving 3.7 million members with headquarters in Newark and offices in Wall, Mt. Laurel, and West Trenton. Learn more at http://www.HorizonBlue.com.
About The Horizon Foundation for New Jersey:
The Horizon Foundation for New Jersey promotes health, well-being and quality of life across our state by supporting charitable organizations. Since 2004, The Horizon Foundation for New Jersey has provided more than 900 grants totaling more than $32.6 million to non-profit charitable organizations throughout New Jersey. For more information, visit http://www.horizonblue.com/foundation.
About the New Jersey YMCA State Alliance:
The New Jersey YMCA State Alliance is a statewide organization whose mission is to collaborate and work together on areas of mutual benefit to strengthen and enhance our individual YMCAs and the collective strength of NJ YMCAs to better serve the people of New Jersey. For more information, please contact Bill Lovett, Executive Director, at bill(dot)lovett(at)ymca(dot)net or visit our website at http://www.njymca.org.
About CATCH:
CATCH is an evidence-based, coordinated school health program designed to promote physical activity, healthy food choices and the prevention of tobacco use in children. The CATCH programs cover kids from pre-school through 8th grade and have been implemented in 8,500 schools and after-school organizations across America. By teaching children that eating healthy and being physically active every day can be fun, CATCH has proven that establishing healthy habits in childhood can promote behavior changes that can last a lifetime.
##