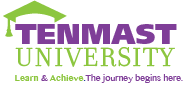 Tenmast University will be an excellent learning tool for the Santa Cruz Housing staff. The portal was intuitive and worked perfectly. Courses were very clear and well presented. The narrators took care to be as clear as possible.
Lexington, KY (PRWEB) September 30, 2013
With government budget cuts slashing into subsidized housing funds, resources for continued education are limited. Tenmast Software, a leader in subsidized housing software systems, has a resolution for their users, with the launch of an online learning portal – Tenmast University.
Since the launch in April 2013, over 1600 users have been enrolled into the system. Actively participating and completing courses daily, enrollees are improving the way they use their software and gaining a stronger understanding of housing processes and how the software works.
A structured learning process based on the tiered levels of school (freshman, sophomore, junior, senior), Tenmast University's incorporated training methods include online video tutorials, computer-based training (CBT), and webinars. Trainings are accompanied by corresponding learning assessments for each lesson/course. TU Students (aka Tenmast Users) access all training information, as well as track their individual training progress, by logging into their user account on the Tenmast University portal. This is accessible from any computer!
With nearly 30 years of Housing Software experience, Tenmast has come to understand the importance of proper training in this complex industry. Data shows that even well-meaning and capable untrained staff consume over 50% more time on a particular agency task as compared to someone who has received recent training on the system they are working with. With Tenmast University, it's easy to keep up with industry/system changes, and new clients are up-to-speed quickly.
Housing organizations have seen amazing results with the launch of Tenmast University. The portal will continuously be updated as the housing industry and software change. This allows changes to be at the fingertips of each user in a more effective and efficient manner.
-------------------------------
Tenmast Software is located in Lexington, KY. Founded in 1984, Tenmast serves Public Housing Authorities & Affordable Housing Organizations with software for Tenant Management, Finance/Accounting, Maintenance, Inspections, Document Management, Compliance, and Executive Decision Making. Tenmast offers superior design based on the business processes of each client using a clear, concise user interface and client-focused customer support. For more information about Tenmast, visit http://www.tenmast.com.