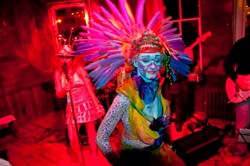 (PRWEB) September 26, 2013
Fun and frivolity abound on Friday, October 25 from 6:30-11:30 p.m. at ESSA's 11th Annual Mad Hatter Ball at the Historic Crescent Hotel.
This event is ESSA's major fundraiser each year and is held in the Crystal Dining Room of the Historic Crescent Hotel. Kick up your heels on the dance floor to the music of Red Ambition or enjoy yummy eats at the dinner buffet.
A silent auction will take place to raise additional funds that will go towards providing quality art education opportunities for ESSA students, in addition to covering ESSA's operating expenses. Auction items will include works of art produced by ESSA instructors and also gift packages donated by local businesses.
This is a Mad Hatter Ball, so a hat is required for admission but dressing in "over the top" costumes is 100 percent optional. Those with a worthy hat can enter ESSA's hat contest for the chance to win a fantastic prize.
Tickets are only $50 per person and may be purchased by calling (479)-253-5384 or on the web at http://www.essa-art.org. For those interested in being an event sponsor, please respond by October 4th.
About the Company:
Eureka Springs School of the Arts is a non-profit organization bringing art education to Northwest Arkansas. Eureka Springs School of the Arts provides art classes, workshops and team building events to companies and individuals of all ages. Eureka Springs School of the Arts brings people together with mixed backgrounds, ages, and nationalities to work with their hands in a supporting and encouraging way, welcoming all regardless of their talents, skills and interests. They create a lasting memory and students create a lasting awareness. For more information, visit their website.