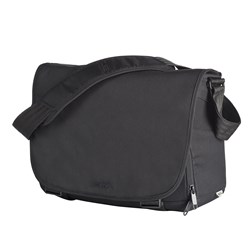 The Sophisticated Commuter Bag
Madrid, Spain (PRWEB) September 27, 2013
Three years after introducing the original U01 Urbanpack, SEIZ brings new innovations to their urban satchel line, the M01. This new pack is a sleek shoulder bag, designed specifically for urban lifestyles.
Following on the huge international success of their Urbanpacks U01 and B01, SEIZ apparel is offering an innovative, sophisticated alternative to every professional satchel on the market. This bag is specifically designed to allow the urban professional to have a bag that has the style and durability of a SEIZ backpack, with the ease and professionalism of a shoulder bag.
On the outside is a simple black exterior that is as understated as it is classy. On the inside is an adjustable compartment specially designed to keep your laptop snug and secure. This gorgeous and practical shoulder bag is ultra-light and designed to carry folders and papers neatly, ready for the next important meeting. It also has an extra-wide shoulder strap to prevent wrinkling of suits and dresses, so the commuter arrives as fresh and neat as the documents. It can even be customized with your name on the side of the bag, neatly embroidered.
The idea behind SEIZ originated with a group of young entrepreneurs, engineers and designers, who rallied around a common goal: the creation of an ideal daily companion that would simplify their lives. Since that day, the SEIZ team has plunged into the adventure head first and is working continuously to develop a new generation of urban backpacks that are more practical, more technologically advanced and better adapted to the rapidly-changing urban lifestyle.