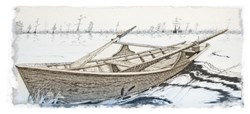 Our boat builder has some surprising things to teach us about the science of memory, imagination, and how the brain works.
Lafayette, Louisiana (PRWEB) September 30, 2013
The University of Louisiana at Lafayette will receive above-the-title credits as "presenting sponsor" for a feature-length documentary film entitled "In the Mind of the Maker."
Exploring the science behind creativity, the movie tells the story of an 85-year-old master boat builder from deep in the Atchafalaya Basin region of French Louisiana.
"Some viewers only know Cajun country from watching 'Swamp People,'" said C. E. Richard, the film's director and a professor of English at UL Lafayette. "But our boat builder has some surprising things to teach us about the science of memory, imagination, and how the brain works."
"In the Mind of the Maker" draws heavily from leading-edge research taking place at UL Lafayette. The University is recognized for its scholarship in the humanities and the sciences, particularly in the field of visualization technology.
"Our film delves into cultural studies and Louisiana folklore, but it also concerns how human beings create images and how current technologies can mimic those brain functions," Richard explained. "UL Lafayette is known for research in several of these fields, and so it makes good sense to honor the university as a presenting sponsor for the project."
The film is financed primarily through corporate underwriting. The producers have elected to donate one of three top-tier sponsorships to the University to promote greater public awareness of important research happening at the institution.
Dr. Ramesh Kolluru, interim vice president of Research at UL Lafayette, called the documentary "a great opportunity to showcase the broad range of research and scholarship taking place at the university. It shows how studies in the arts, the humanities, and the sciences can complement each other."
Delivered in English and French, the movie is slated for international release in 2014 by the production company, Mind of the Maker Films LLC. Unlike many documentaries, it features significant computer generated imagery elements, created in partnership with Pixel Magic, a leading visual effects company whose work includes "Harry Potter and the Deathly Hallows," "Secretariat" and "The Help."
The project will provide learning opportunities for some UL Lafayette students through paid internships. Interns from the University's Moving Image Arts program will work under the supervision of established filmmaking professionals, including several who will be mentored in the craft of visual effects by artists with Pixel Magic.
Executive Producer John Durel said filmmaking is a combination of art and business. "So my goal is to make sure that our sponsors receive a solid promotional value. That includes not only our corporate underwriters, but also UL Lafayette and the University's benefactors within the business community."
Durel encouraged readers to follow the project on Facebook and added that sponsorship opportunities are available. He can be reached at (337) 230-0450 or MindoftheMakerPR(at)gmail(dot)com.