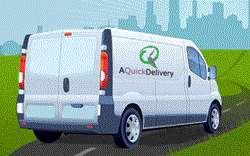 Atlanta, GA (PRWEB) September 27, 2013
AQuickDelivery, a recognized leader in same-day delivery, messenger and transportation services, announces new account benefits and services. The announcement comes in an effort to promote customer loyalty, create new accounts, and increase sales growth. AQuickDelivery strives to be the best choice in same-day courier solutions throughout Atlanta and Georgia areas.
AQuickDelivery offers customers various benefits for opening a new account. Account holders are able to receive a discounted rate for all courier orders. The discount depends upon the vehicle needed, which can be at the least $4 every order. Most account holders have a debit/credit card on file on their account, therefore, phone and online orders can be processed fast as well. Only account holders can be eligible for billing.
Account holders are eligible for the AQuickDelivery reward points program. They will receive one point per dollar spent for orders online. For every 1,000 points, account holders will receive a $25 gift card. Account holders also have their own online address book for the ease and convenience of creating orders. They can also become a Travel Security Association (TSA) known shipper with AQuickDelivery and ship items via air from Atlanta.
Customers are able to open a new account via phone or online. For any questions regarding new account services, clients can contact AQuickDelivery to discuss their courier needs. AQuickDelivery is available 24/7 to assist its' customers with any late night courier service requests or adjustment to a current order. The Atlanta courier creates optimal courier service solutions that result in a quality customer experience.
AQuickDelivery is a premier same-day courier offering transportation and distribution services. From small packages to palletized freight, AQuickDelivery delivers fast! As a leader in the courier industry, their goal is to perform optimal courier logistic solutions and superior customer service every time. The courier provides same-day delivery successfully for over 1,500 clients, including Fortune 500 companies throughout the US.