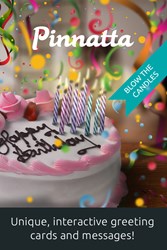 Pinnatta is the first mobile messaging platform to use the technology already built into smartphones to deliver a truly unique and interactive messaging experience.
Sunnyvale, CA (PRWEB) September 26, 2013
Pinnatta, Inc. (http://www.pinnatta.com), the world's first interactive multimedia messaging app, announced today a significant upgrade to its iOS and Android™ apps, featuring a completely redesigned interface and dozens of new "Pinnatta" messages available to send to mobile phones instantly to help brighten people's days. To celebrate the new version, all users who download the app by October 10th will get 1 month of the Premium Plan for free (originally $4.99). The plan allows users to send unlimited number of Premium Pinnattas for one low monthly price.
Pinnatta is the first mobile messaging platform to use the technology already built into smartphones to deliver a truly unique and interactive messaging experience. Messages are brought to life when Pinnatta users are asked to shake, tilt, or blow on their device or pinch, drag or tap their screens in order to reveal a message's content.
Able to be sent within moments and enjoyed for much longer, Pinnattas were created to help people connect and spread happy moments. Senders can choose from over 500 messages within the Pinnatta library to help celebrate milestones such as a birthday or an anniversary, share the holiday spirit for Valentine's Day, Mother's Day and Christmas, as an everyday greeting to say "good morning" or "I love you," and as a way to organize offline activities such as going to the movies or grabbing coffee with a fun, interactive invitation.
Examples of Pinnatta messages include:

A virtual birthday cake with flickering candles that must be extinguished by blowing on the device's microphone;
Digital origami that must be "unfolded" by swiping on the phone's screen in order to reveal the message's content;
A radio that plays the sender's pre-recorded voice message when the recipient tunes to the right frequency;
A puzzle that must be put together in order to reveal the special message.
"We want the new version to be nothing less than the easiest, fastest and coolest way to make your friends smile," said George Spanoudakis, CEO of Pinnatta. "We believe that this major update delivers exactly that. You can create and share a unique interactive greeting card or message that create a lasting impression within seconds."
The updated app's brand new interface has been specifically designed and optimized to make sending and receiving Pinnattas easier than ever. Registration has been streamlined, to make it even easier to get started, offering the ability to use multiple log-in IDs from services such as Facebook™, Gmail™, Windows® Live ID, or others. The new Pinnatta store is even more dynamic and personalized, making choosing the right message to send even more convenient. Users are able to send a happy message to many more friends and family members with a quick touch of the button with the new multiple send feature. When received, messages can now be previewed even if the recipient doesn't have Pinnatta installed.
For those who love sending Premium Pinnattas, this new version of the app introduces a subscription model to provide users with a huge value. For a monthly subscription fee, users are able to send an unlimited amount of premium Pinnattas to as many users as they would like. Free and individually priced Premium Pinnattas are still available.
The app can be downloaded now for free at:
Apple App Store: https://itunes.apple.com/us/app/pinnatta/id465618250?mt=8
Google Play: https://play.google.com/store/apps/details?id=com.pinnatta.android&hl=en
The app is set to launch on Windows Phone and iPad later this year.
Please add us on Facebook at http://www.facebook.com/pinnatta and follow us on Twitter.com/pinnatta. Also, check out http://www.pinnatta.com for developer blogs and updates.
About Pinnatta
Pinnatta is a next-generation mobile messaging service that lets people instantly and easily connect through fun, personal and interactive greetings. The app leverages the unique capabilities of today's smartphones to enable mobile users to receive an amazing interactive experience by blowing, tapping, swiping, dragging, rubbing and shaking their device. Pinnatta offers hundreds of customizable messages to commemorate special occasions such as birthdays and anniversaries, to celebrate holidays like Christmas, Valentine's Day, Mother's Day and Easter, and to make every day special with daily greetings such as "Good morning", "Hello" and "I love you". Based in Sunnyvale, California, and Athens, Greece, Pinnatta is backed by top-tier investors and led by a seasoned management team with experience building and scaling applications on social and mobile platforms. For more information, visit http://www.pinnatta.com.
# # #
Media Contact
Matt McAllister
Fluid PR & Communications
(510) 229-9707
matt(at)fluidspeak(dot)com
Company Contact
Honey Hamilton
Communication Manager
(408) 384-9417
honey(at)pinnatta(dot)com