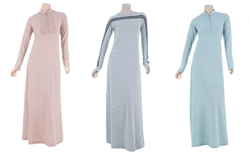 Sophisticated silhouettes, rich colours, Aab breathes new life into a season full of glamorous elegance.
London, England (PRWEB UK) 30 September 2013
Aab Collection, one of the world's leading suppliers of high quality Islamic clothing, has announced the launch of their autumn 2013 range, which is available now on their website http://www.aabcollection.com. The new ranges include lines that look back at the summer as well as forward to the winter and combine luxury, style, and elegance, and fit perfectly with the values Aab Collection continues to represent.
While the Aab Collection autumn 2013 range features an array of Islamic clothing inspirations for women, the company anticipates that abayas will be the most sought after garments on offer. Aab Collection's abayas combine comfort and functionality and are available in a range of styles and colours. There are soft pastel colours for wearing on any occasion, while the more formal black garments are excellent for the professional Muslim woman or for wearing on special occasions.
Speaking about the launch of the new range, Aab Collection's Nazmin Alim said, "The new mood is all about grace. Aab embraces Autumn with a passionate palette of plum, rich green and midnight navy complete with ornate embroidery, luxurious lace and all things feminine. Sophisticated silhouettes, rich colours, Aab breathes new life into a season full of glamorous elegance."
The Pretty Pink Pintuck abaya aims to capture the essence of smart casual perfectly, it brings together simplicity and detail brilliantly to create an elegant, classic look that is at home in the office or having a relaxing coffee with friends.
Urban Living is the perfect abaya for the Muslim woman who lives a hectic life and is always on the go. Manufactured from jersey cotton, it has more than a hint of sportiness about it, but that doesn't mean it is any less desirable, nor does it give Islamic women an excuse not to have it in their wardrobe.
Sea Shells is similar to the Pretty Pink Pintuck abaya and is the perfect introduction to the autumn season. Again combining the classic abaya look with fine detail and a distinct aqua colour, this is another abaya to be worn whenever the wearer pleases.
Aab Collection has again designed an elegant range of great looking yet modest clothing suitable for Muslim women around the world. In addition to the three abayas highlighted, their new range includes kaftan dresses, hijabs, and much more, and they encourage everyone to view their latest collection for autumn 2013, which is on sale at http://www.aabcollection.com now.
About Aab Collection
Aab Collection is an online website that sells Islamic clothing primarily for Muslim women who find themselves playing multiple roles in today's society. Our aim is to provide clothing with simplicity and comfort with a balance of luxury and modesty in mind.
Notes to Editors
The full autumn 2013 range from Aab Collection can be viewed at http://www.aabcollection.com/shop/category/new-in-whats-new/89
Media Contact
Contact: Altaf Alim
Email: altaf(at)aabcollection.com