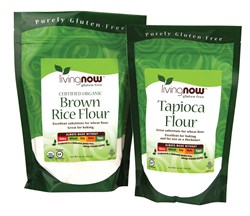 Bloomingdale, Ill. (PRWEB) September 30, 2013
For the more than 15 million Americans – including nearly one in every 13 children – who have food allergies, living allergen- and gluten-free doesn't have to be the hassle or burden it once was.* The new Living Now™ line of allergy-friendly foods from NOW® Foods makes it easier than ever to enjoy modified versions of the foods people know and love, without sacrificing taste, texture or variety.
With a focus on wholesome ancient grains and flours, Living Now products – which currently include Organic Amaranth, Organic Brown Rice Flour, Organic Quinoa, Tapioca Flour, and White Rice Flour – are non-GMO, certified gluten-free, and kosher, with many certified organic as well. They are manufactured and handled in a dedicated gluten-free and allergy-friendly facility to ensure the highest quality products made without the eight major allergens including wheat, tree nuts, peanuts, soy, dairy, eggs, fish and shellfish.
Living Now will introduce new baking mixes including Gluten-Free Banana Chocolate Chip Bread and Gluten-Free Chocolate Chip Cookies, followed by Gluten-Free Brownie Mix, Gluten-Free Baking Mix, and Gluten-Free All-Purpose Flour throughout the fall. The full line will be available in early 2014.
"As a company dedicated to providing comprehensive wellness solutions and as someone who has begun the journey of a gluten-free lifestyle, I am very proud to offer our allergy-conscious customers a way to make eating gluten-free a simple, great-tasting and affordable way of life," said Jim Emme, NOW Foods President. "Our insistence on adhering to Good Manufacturing Practices (GMPs) for both the natural products industry and the federal Food and Drug Administration provides our customers with an extra level of confidence other manufacturers simply can't match. I truly believe Living Now will make a difference in the lives of many people who share my food sensitivities."
Make Allergy-Friendly A Delicious, Hassle-Free Lifestyle
To help people make allergen-free a healthy and accessible lifestyle choice, NOW's R&D Corporate Chef and FOX's "MasterChef" Season 2 Finalist, Suzy Singh, is focused on developing recipes and new product concepts to encourage consumers to incorporate Living Now in their daily menu.
"My goal is to help everyone enjoy what they're eating, and that means understanding that by making simple tweaks to everyday foods and favorite recipes, everyone can feel included in the meal and/or snack," said Chef Suzy. "This is especially important with the back-to-school season underway, and with the busy holiday season ahead." Try Chef Suzy's recipe for Gluten-Free Berry Medley Crepes, which uses Living Now Organic Brown Rice Flour, perfect for a family breakfast or after-school treat. See recipe below.
Living Now Foods are available at http://www.LivingNowFoods.com and finer health food stores nationwide at a suggested retail price of $3.29-$6.99. To stay up-to-date on NOW Foods news, follow them on Facebook and/or Twitter @NOWFoods.
About NOW Foods:
Founded by Elwood Richard in 1968 on the belief that natural is better, NOW Foods has grown from a small family operation into one of the most highly respected manufacturers in the natural products industry. Still a family-owned company today, NOW provides customers with a comprehensive approach to wellness by offering more than 1,400 dietary supplements, foods, sports nutrition and personal care products that are As Natural As Can Be™. NOW Foods is committed to offering safe, affordable products of the highest quality, and is a highly regarded advocate in the natural products industry. Its state-of-the-art manufacturing facility in Bloomingdale, Ill., has been GMP (Good Manufacturing Practices)-certified since 2000 and its in-house laboratory capabilities are among the best in the industry. The company has over 1000 employees, and its products are sold in more than 80 countries. After 45 years in the natural products industry, NOW remains committed to its original mission – to provide value in products and services that empower people to lead healthier lives. http://www.NOWFoods.com
Source: Allergy and Asthma Foundation of America
Gluten-Free Fresh Berry Medley Crepes
(Serves 4)
Ingredients:
1 cup Living Now™ Organic Brown rice flour
¼ cup NOW® Organic Cocoa Powder
1 cup milk
½ tsp salt
½ cup raspberries
½ cup blueberries
½ cup blackberries
2 eggs
1 packet of NOW® BetterStevia™ Organic
1 tsp grapeseed oil
½ cup water
Directions:
1) In a bowl whisk 2 eggs with milk.
2) In a separate bowl combine brown rice flour with salt.
3) Combine the dry ingredients to the wet ingredients until fully incorporated.
4) In a sauté pan, add berries, better stevia, and ½ cup of water on medium low heat.
5) Allow the liquid to evaporate until a jelly-like mixture is created.
6) In a separate large sauté pan add 1 tsp grapeseed oil on medium low heat.
7) Add 1 cup of the gluten free crepe mix and spread thinly and evenly across the entire surface of the pan.
8) Cook until the crepe has a golden color (1-2 min) then flip.
9) Add the berry medley to the center of the crepe and cook for 1 more minute.
10) Fold the crepe so that it looks like a half circle.
11) Place on plate and sprinkle 1 tsp organic Cocoa Powder.
12) Serve and enjoy!