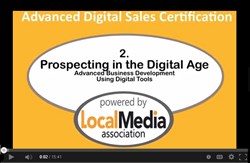 The Advanced Digital-Sales Course offers tactical approaches to selling digital products and using digital media to increase and capture qualified leads.
Traverse City, MI (PRWEB) September 30, 2013
Local Media Association (LMA), the professional trade organization for over 2,220 local community newspapers and their online sites, has launched its new Advanced Digital-Sales Course that will train sales professionals to be experts in digital sales techniques. The course is part of the LMA's Sales Certification Program, currently made up of two courses, the other being the Fundamentals Media Course.
The Advanced Digital-Sales Course offers tactical approaches to selling digital products and using digital media to increase and capture qualified leads. It will prepare an advertising sales professional to present successful and effective advertising solutions that drive client-value and generate measurable sales-results.
The course consists of 26 training modules, divided into five segments, and is made up of online videos, taken at the participants own pace. There is an assessment test after each of the five segments in the program. Participants must score at least 90 percent in order to advance to the next segment. Upon successful completion of the program, participants receive a certificate to certify compliance with the LMA standards of advanced digital sales techniques.
"Our Sales Certification Program was recently revamped and re-launched. Already, we have trained over 100 sales professionals," said Nancy Lane, president of Local Media Association. "This year alone, local advertisers will spend over $25 billion dollars on local digital advertising. This program lays out new innovative techniques that prepare a sales professional to capture more of this revenue and to gain an advantage over the competition in the local marketplace."
Peter Conti, marketing and sales director of Local Media Association added, "We hired Stephen Warley of inboundarts.com to put together the new Advanced Digital Sales Course. His experience in training more than 10,000 sales professionals in the broadcast industry brings a fresh perspective to providing sales training across all media. Stephen founded the New York State Broadcasters Association's Digital Leadership Academy and is considered one of the best in the training field."
The Advanced Digital-Sales Course's five segments are:
1. Advertising Business Development Using Digital Tools
2. Multi-Media Proposal Development
3. Setting Client Expectations
4. Digital Ad Formats
5. Digital Sales Ideas by Business Category
The affordably priced course is also available to non-LMA members.
A full-length video sample of the second module, "Prospecting in the Digital Age," is available for viewing at http://youtu.be/ZgVYwoc7H4M.
For more information on the full Sales Certification Program, go to http://localmedia.org/Resources/SalesCertificationProgram.aspx.
About Local Media Association
Local Media Association is a thriving and innovative association that serves more than 2,200 newspapers and their related digital products in the U.S. and Canada. LMA assists local media companies with the digital transition via cutting-edge programs, conferences, webinars, research and more. LMA also offers two programs to the entire local media industry: the Sales Certification Program and Google Ad-Words Certification Training. In addition, the LMA's Local Media Innovation Alliance offers monthly case studies on emerging trends, new business models and digital revenue growth. For more information on Local Media Association, visit http://localmedia.org.