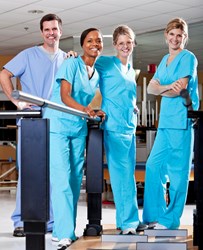 Licensed Professionals are always in demand. They are self-reliant earners with discretionary time and money."
Princeton, NJ (PRWEB) September 30, 2013
Professionals who work in careers that require a license to practice enjoy job security and steady income uncommon elsewhere in the job market. Their employment numbers are also rising as evidenced in the September 2013 ALC B2B Licensed Professionals database update.
ALC, a leading compiler of business data, now counts over 5.6 million licensed professionals in over sixty professions, which reflects 15% growth over the last file update. Top growth professions include physicians, engineers, therapists, counselors, and cosmetologists.
The U.S. Department of Labor's job outlook for licensed professionals is among the brightest among all careers with double-digit growth expected in most areas of specialization through 2020. Based on the department's Occupational Outlook Handbook projections, ALC B2B expects its database of Licensed Professionals to continue on a path of similar growth.
Maryann Posten, Vice President ALC B2B, states that the increase is due to the input of several new data sources as well as rising employment in nearly all professions the company tracks. "Licensed Professionals are always in demand regardless of the economy," she says. "These individuals are often overlooked by marketers prospecting to build audience. However, they represent a lucrative audience of self-reliant earners with discretionary time and income to travel, improve their homes, and pursue their hobbies."
According to Ms. Posten, ALC certifies that professionals on the list do, in fact, possess valid licenses. "For these professionals, a license to practice is also license to purchase for both home and business," she adds.
Actual numbers of individuals that ALC identifies as employed in more than sixty professions are detailed on the company's online product data page. The file is available to direct marketers, publishers, and fundraisers for new customer, subscriber and donor acquisition efforts.
For more information contact Maryann Posten, Vice President ALC B2B, by email at maryann.posten(at)alc(dot)com, or by phone at 609-580-2978.