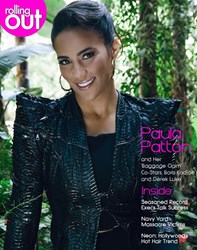 I am so glad that I am in a relationship.
Atlanta, GA (PRWEB) September 26, 2013
Starring in David E. Talbert's latest silver screen installment, 'Baggage Claim,' actress Paula Patton plays the love-obsessed Montana Moore. It's a film that the writer-director says, "is a journey of a flight attendant along with her two best friends who concoct a scheme. Paula Patton is a beautiful woman, so I wanted to use a cross section of men from Taye Diggs to Djimon Hounsou … to a young urbanite Trey Songz. I used slices of my own life to create this story."
Married now for nearly a decade, Patton delves into the subject of love and the secret to a lasting relationship in this week's issue of rolling out.
"I am so glad that I am in a relationship or I would be messed up," she shares. "Hopefully, you enter the relationship open and ready to learn and this person who tells you there are some flaws you need to work on, you should listen. That's what I love about my relationship and it has made be a better human being."
Co-stars Boris Kodjoe and Derek Luke chime in on the topic and share their perspectives on chasing love versus falling in love and overcoming differences.
Visit rollingout.com to read the interview in its entirety. Be sure to check out the exclusive photo shoot and video footage with celebrity photographer DeWayne Rogers.
About rolling out Magazine:
Rolling out, the nation's largest free urban weekly, is a digital and print magazine that focuses on the black experience in response to entertainment, politics, fashion, culture, sports and lifestyle points of interest. Headquartered in Atlanta, rolling out is positioned as the voice for the African American experience, using its newspaper as a platform in the marketplace to express urgency for education reform, and to document entrepreneurial endeavors and other relevant issues in the Diaspora. For information on rolling out, please log on to rollingout.com.