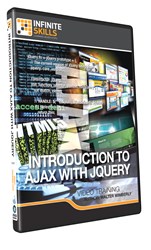 Learn Introduction to AJAX with jQuery at your own speed.
(PRWEB) September 27, 2013
Software training firm Infinite Skills Inc. this week released its "Introduction to Ajax with jQuery Training Video," a specialized course for web developers teaching how to incorporate Ajax's asynchronous data retrieval into web pages.
Ajax is a collection of interrelated, client-side, web development techniques that implement asynchronous web applications. The primary advantage of asynchronous web apps is that they allow a browser to send and retrieve data from the server independently of the display and behavior of an existing page.
Infinite Skills' "Introduction to Ajax with jQuery Training Video" teaches the fundamental skills and techniques of using Ajax with jQuery so that web developers can learn to integrate Ajax's efficiency into their web development projects.
Introduction to Ajax with jQuery Video Training - DVD
Course author Walter Wimbley has been teaching in college and offering specialized training for corporations for more than 14 years. His focus has been in web technologies including Ajax, web programming with PHP, ASP.NET, JavaScript and jQuery. He also has experience in database design, social media, focusing on web-based technologies that function for businesses.
After an introduction explaining how to get set up for Ajax and jQuery, explaining all the required software installations and some basic jQuery techniques, Wimbley begins with forms, explaining the basic interchange of data from user input to the server.
He continues looking at using event handlers for data retrieval, using HTML, XML, and JSON, as well as how to update data on an existing page.
The course closes with a chapter on building a search suggestion list, showing students how to build a search form, reuse code to display results, and work with tags to create tag searches.
"In this course, we'll look at how to build a website which only uses Ajax to call a server," Wimbley says. "Ajax allows your browser to avoid having to load multiple pages to retrieve different information."
Free demo videos and a full list of course contents can be found on the Introduction to Ajax with jQuery training page of the InfiniteSkills website:
http://www.infiniteskills.com/training/introduction-to-ajax-with-jquery.html
InfiniteSkills offers its Introduction to Ajax with jQuery Video Tutorial either as a DVD or a direct download from the company website at a retail price of $24.95. Though the compatibility of programs varies, all InfiniteSkills titles and formats are compatible with both Mac and Windows operating systems, and shipping is available around the globe. Additionally, InfiniteSkills tutorials are supported by project files which correspond to examples in the videos.
About Infinite Skills Inc.
A leader in the field of software training, Infinite Skills designs its courses on a task-oriented model, teaching complex skills by providing hands-on examples and guiding users as they carry out essential functions. Infinite Skills offers a wide range of software titles available as DVDs, digital downloads, and in iPad editions. Infinite Skills now offers a subscription service, providing access to all its training content for a monthly fee, keeping with company's aim of delivering professional training to customers anywhere they want to learn.