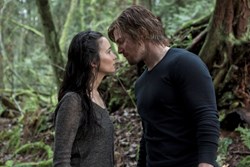 If you thought that she had a big impact on Oliver last season, you'll see that this season's going to be even bigger.
(PRWEB) September 27, 2013
'Arrow' is a series that trades in mystery and one of the most mysterious characters is Shado, played by the talented Celina Jade. When working on a show that offers secrets wrapped in other secrets, there's bound to be a lot of information actors aren't allowed to talk about. Jade spoke with TVRage.com co-News Editor Allyson Koerner about 'Arrow's second season, Shado's connection to Oliver, and what she isn't allowed to say about what's to come.
Jade was born in Hong Kong and was raised around show business, honing her talents as an actress, model, singer/songwriter and martial artist. She appeared in the 2012 feature film 'The Man with the Iron Fists' and followed up with a recurring role on 'Arrow,' where her character's importance increases with each episode. Appearing in flashbacks while Oliver (played by Stephen Amell) was trapped on the island, Shado knows things about Oliver that no other character does--and she has a connection with him that no one else can touch.
Here's an excerpt from Celina's interview:
"TVRage: Why do you think Oliver and Shado connect so much?
Jade: Shado and Oliver definitely connect because they've both lost their father. For Shado, she definitely feels guilty for her father's death -- that she couldn't do anything at the time and that she felt helpless and she didn't manage to save her father. … I also think their connection comes from Oliver [saving] Yao Fei, and Yao Fei [saving] Oliver … Before Shado came to the island, and even though she believed her father was innocent, there was a part of her that was worried that her father might have changed, because of the island [and] to become somebody bad. Oliver gave her that hope or that faith that her father was a good person [and] remained a good person."
'Arrow' Season 2 premieres Wednesday, Oct. 9 at 8/7c on The CW.