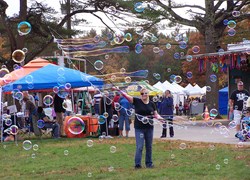 Edaville was first and foremost a cranberry plantation -- it's why the railway was built! - Owner, Jon Delli Priscoli
Carver, MA (PRWEB) September 27, 2013
Enter the world of the cranberry! New England is one of the largest growers of cranberries in the world. Do you know where and how they grow? Do you know what goes into the process and the rich history of this tart and tangy fruit that we embrace in our drinks, food and especially during the holiday season?
Edaville's annual National Cranberry Festival, featuring all things cranberry, offers excitement and education for the whole family since 1947. The highlight of the event is an authentic train ride through spectacular scenery – oftentimes past actual cranberry harvesting. Guests can get a bird's eye view of the bogs from Big Eli, Edaville's vintage Ferris wheel or a slightly more grounded view from Edaville's newest ride, Flying Cranberry Crates.
To celebrate the harvest season, there's a marketplace or handmade artisanal goods and seasonal delights. A rotating schedule of live music and other entertainment is spread out over the two-day event. Festival goers can participate in Edaville's first-ever pumpkin carving workshop led by renowned gourd carver Chris Vierra. Or they can cruise the classic Thunderbird collection or send their little loved ones off on a pony ride. They can get up-close with the cranberry in its natural environment, and then get in-depth with its history in Edaville's one-of-a-kind Cranberry World Museum.
Tickets are $10 for festival admission plus unlimited train rides only. $19 to add unlimited amusement rides (ages 2-59) or $16 for seniors (ages 60+). Under 2 is free. Parking is free.
Tickets are on sale now at http://www.edaville.com. For more information and directions, you can also contact Edaville USA at 508-866-8190.
About Edaville USA
Edaville USA is a train-themed family amusement park located in the heart of cranberry country. This New England tradition features an authentic narrow gauge railway winding through picturesque cranberry bogs, as well as unlimited use of 12 vintage carnival rides and beautifully decorated indoor and outdoor play spaces. Edaville hosts many special events in the fall and winter, including the National Cranberry Festival and fabled Christmas Festival of Lights. Edaville is conveniently located less than an hour from Boston and Providence. For more information, visit http://www.edaville.com or follow Edaville on Facebook at http://www.facebook.com/EdavilleUSA .