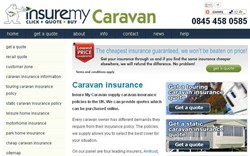 .... better education and a combination of a test with a service .... would help to cut the cost and administration overhead
Chipping Norton, Oxfordshire (PRWEB UK) 27 September 2013
The customers of Insure My Caravan, the UK's foremost caravan insurance comparison website, have reacted angrily to the news that the EU is demanding MoT-style tests for caravans. The insurance broker covered the issue in its September newsletter and responses vary from measured to infuriated, but all supported the government's stance, which is to try and block the move.
Insure My Caravan's newsletter article (which can be read here) covered EU proposals for requiring caravans and trailers to go through an annual check similar to the MoT test for motor vehicles. The Department of Transport has stated publicly that other EU member states have joined the UK in saying that the move is not wanted.
The government has estimated the cost of a registration scheme, which would be needed to check and enforce the test, at £239m. The Caravan Club also stated that the proposal could cause job losses in the caravan and camping industry if the result is a fall in the numbers of active caravanners.
Quite a few respondents to Insure My Caravan's article said that they would give up caravanning altogether, this being the final nail in the coffin of increasing expenditure. Others pointed to the amount of money the caravan industry generates from manufacturing, distribution and sales centres, and caravan and camping sites.
Many respondents recognised that the driver for this move is safety, but that the vast majority of seasoned caravanners in the UK already look after their equipment extremely well and that the initiative is more likely to be aimed other EU countries where that might not be the case.
One reader, who is also an MoT tester, could see the point, but thought that better education and a combination of a test with a service - which many caravanners have done every season anyway - would help to cut the cost and administration overhead. Other readers made this point too.
Some pointed to the fact that numbers of new caravanners appears to have dropped since the changes to towing restrictions on driving licences were announced.
Finally, a common point aired was that we in the UK seem to often be the first, and sometimes only ones, to implement EU directives and make them law.
It's clear from the feedback already received from Insure My Caravan customers that the government's stated position, to rebuff this directive, is fully supported.