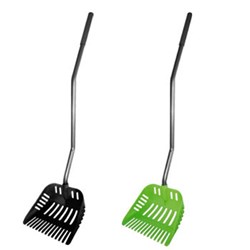 Mucking out is particularly bad for the back as it can force the body into awkward postures, posing a real threat to muscles and joints - particularly the back.
Retford, Nottinghamshire (PRWEB UK) 30 September 2013
It is estimated that one in five people will visit their GP in any given year because of back pain, and 80% of adults will experience at least one episode of back pain at some point in their life.
Looking after horses can be particularly bad news for backs. For example, lifting heavy objects such as lorry ramps and jumps and leading a strong horse can all contribute to the cycle of ongoing back pain. Even something simple as putting a bridle or a saddle on can aggravate the lower back.
However, it's the necessary day-to-day tasks such as mucking out which can really cause problems for many horse-owners, according to Rebecca Ball, Managing Director of Eazitools equestrian, who supply an innovative range of stable and field tools which have been ergonomically designed by experts to maximise safety and reduce the general stresses and strains endured by horse-owners when undertaking labour intensive jobs in the yard.
"Mucking out is particularly bad for the back as it can force the body into awkward postures, posing a real threat to muscles and joints - particularly the back," says Becky, adding, "There's definitely an art to it, but many horse-owners are unaware of this and may be using the kind of body mechanics that create pain. By following some simple rules and adopting the right posture, mucking-out can be made much easier and far less strenuous."
If back pain is getting in the way of you looking after your horse, it could be that you simply need to change your technique.
To help improve technique and reduce the strain placed on the user, Eazitools have recently launched the Eazi-Lift Plastic Shavings Fork. Designed to enable raking, sifting and lifting, effortlessly and effectively without the need to bend the back. The key to this innovative stable tool is the specially shaped ergonomic shaft, which automatically improves the posture position of the operator when mucking out. In order to further reduce the strain on the user, the Eazi-Lift Plastic Shavings Fork head is constructed of strong, durable ABS Plastic and the shaft is steel, making it lightweight. Eazitools also provide a lifetime guarantee with this tool, making certain that anyone looking for a quality, strain reducing mucking out tool needs to look no further.
Eazitool equestrian tools start from £4.99. For further details, visit http://www.eazitools.co.uk or telephone 01427 884394.
Pictures available on request.
ENDS
For further information, in the first instance, please contact:
Lisa Hillier
01799 525325
lisa(at)eazitools(dot)co(dot)uk
Rebecca Ball
01427 884394
becky(at)eazitools(dot)co(dot)uk
Background information:
Eazitools was launched in 1999 with one simple aim, to make difficult, labour intensive jobs easier and less stressful on the users' muscles and back.
It is a small but growing family run organisation based near Retford, Nottinghamshire.
The eazitool's concept began when an unfulfilled niche was spotted for making traditional garden tools more user-friendly, in particular tools that are lightweight yet strong and safer to use.