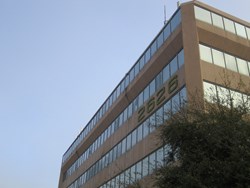 "We appreciate the vision and professionalism of the key lender, Realty Capital Partners," said Phil Jemmett, CEO of Breakwater Equity Partners.
Houston, TX (PRWEB) September 30, 2013
Today, Breakwater Equity Partners, a commercial real estate advisory and investment firm, announced that it has successfully completed the restructuring of two Houston office buildings located at 2616 and 2626 South Loop West. The buildings are part of a larger portfolio that Breakwater is restructuring. This closing is the culmination of a two-year workout process.
After the recession began in 2008, occupancy and rental rates in the buildings dropped; when the existing leases expired the owners were unable to pay make debt service payments and the loans went into default. Property values plummeted to almost half of the original purchase price. In 2011 the owners hired Breakwater to restructure their portfolio of commercial real estate.
The Class B office buildings are adjacent to one another in the South Main/Medical Center submarket of Houston. Both buildings are multi-tenant office; 2616 South Loop West is 81,007 square feet and 2626 South Loop is 106,972 square feet. Both buildings are six stories tall and are occupied by smaller professional tenants, many of which are medically oriented. The properties are in the proximity of the Texas Medical Center, Reliant Park, and Kirby Drive. Houston based Boxer Management is the property manager.
"When we came on board these properties were far under water; but with continued good management, new capital, and the resurgence of the market, we have every expectation that the properties will continue to perform at a high level and enable us to pay off the lenders in full while maintaining equity for our clients," said Phil Jemmett, CEO of Breakwater Equity Partners. "We appreciate the vision and professionalism of the key lender, Realty Capital Partners."
"Back in 2011 the global recession was taking its toll particularly hard on the real estate sector," said Blake Lugash, President of Realty Capital Partners, an investment firm headquartered in Dallas, TX. "The Houston office market was soft, and these properties were not performing as projected. Our investors were counting on us to protect their capital. Fortunately, we were able to get creative and worked out a structure to maximize our investors' interests."