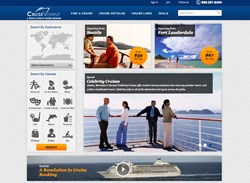 "This is a wonderful opportunity to join the Cruise Voyant crew and be a part of the next generation of cruise travel booking," stated Carmen Sigman, Senior Writer for Cruise Voyant
Fort Lauderdale, FL (PRWEB) September 30, 2013
South Florida-based cruise travel agency, Cruise Voyant will be launching a campaign in October to recruit content writers to join its crew. This is an exciting opportunity for experienced cruisers and writers to work for a leader in the cruise industry.
"This is a wonderful opportunity to join the Cruise Voyant crew and be a part of the next generation of cruise travel booking," stated Carmen Sigman, Senior Writer for Cruise Voyant. "As a Cruise Voyant writer, you will be privy to cruise deals and upcoming promotions from Cruise Voyant," she added.
CruiseVoyant.com's website and booking engine was built to be cutting-edge and offers the consumer many booking tools that no other cruise booking site does, including real time connections to room inventory and the price history tool to help choose the best time to book. Cruise Voyant's current crew members consist of tech-savvy developers, cruise industry experts, top writers and designers. This is how we developed a consumer-friendly, seamless cruise search and booking process to better match consumers to their ideal cruise.
Stay tuned to Cruise Voyant and be sure to watch for our "Join Our Content Crew" promotion to launch in October on CruiseVoyant.
About Cruise Voyant
Cruise Voyant is a Fort Lauderdale-based cruise agency that is revolutionizing the cruise booking process. Cruise Voyant solves many of today's most difficult booking issues by allowing visitors to view a historic look at how pricing has changed on a particular ship and sail date. Cruise Voyant also offers interactive cruise itinerary maps, and it provides tens of thousands of photos of ships and destinations worldwide. Cruise Voyant helps consumers easily find their dream vacation by empowering them with online advice and insights that will help them easily book and manage their vacation plans.