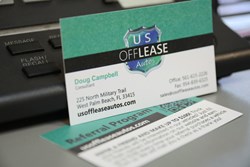 West Palm Beach, FL (PRWEB) September 27, 2013
US Off Lease Autos understands that people take the advice of their friends very seriously. That's why they've implemented a brand new referral program that puts money back into the pocket of their customers with no hassle whatsoever.
Refer a friend or relative to US Off Lease Autos and the staff at US Off Lease Autos will mail that person a check for $100 no strings attached. There's no signing up for any mailing lists or anything. Simply tell a friend about US Off Lease Autos and if they buy a car and mention their referral by name, then expect a check in the mail.
Dimitry Agrachov, the General Manager of US Off Lease Autos, explained that there is no limit to how many referrals you can get.
"People trust their friends so we like to reward people who send their friend our way," he said. "Every time your referral buys a car we send you a check for $100, it's really that simple."
Treating customers right is a source of pride for the professionals at US Off Lease Autos and their referral program is just another example of how their customer service is second to none. People buy cars all the time so you can really clean up if you take advantage of the offer.
Stop by US Off Lease Autos today and check out their huge selection of certified pre-owned cars, trucks and SUVs.
"There's nobody you trust more than your family and friends, so we try to capitalize on that with our referral program," Dimitry said. "Seriously, what's better than getting a check for $100 for literally just pointing someone in the right direction!"
About US Off Lease Autos:
Since 2004, US Off Lease Autos has been providing quality used vehicles to the people of West Palm Beach. The experienced sales staff is eager to share their knowledge and enthusiasm with you. Browse the online inventory of certified used cars, trucks and SUVs. Use the car locator feature to find the perfect car for you. Visit them online at http://www.usoffleaseautos.com for more information. Stop by their location at 225 North Military Trail in West Palm Beach, FL 33415 or call the sales department at (877) 414-7154. With attractive financing offers, US Off Lease Autos should be your first stop for used cars in West Palm Beach.