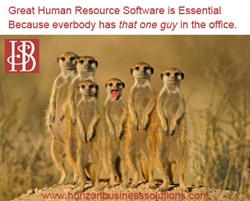 "Automating the human resource process promotes compliance on state and local levels," says Kim Bolin.
(PRWEB) September 28, 2013
Technology has and will continue to change how we live and do business. For the small business owner, its impact can be measurable in both efficiency and effectiveness. Horizon Business Solutions Marketing VP Kim Bolin believes there are disciplines in business that really align themselves well with an automation process, and one in particular is providing human resource support for employers. "Automating the human resource process is both a time and money saver for both the employer and the employee," says Bolin.
"Large companies have been using online and automated systems for awhile, but now we want the small-to-mid-size businesses to understand that there are better ways to optimize a workforce and all the personal data associated with managing an employee," says Kim Bolin, VP at Horizon Business Solutions.
Today, we offer new human resource software that allows companies to manage everything an employer needs including payroll, health and 401K-type benefits, time management, compliance, tax documents and training. This can be particularly important when it comes to complying with state regulations.
Horizon Business Solution's has a new web-based services program providing the critical tools for managing the legal and regulatory needs within a company. For example, companies have to comply to state laws around health benefits when employee sponsored coverage is terminated. Horizon Business Solutions HR Tool Kit helps employers comply with laws at the state and the federal level (COBRA) that can be challenging and confusing to implement for a small business owner. These laws are complicated and ever-driven by ever-changing regulation and business conditions. Incorporating this type of software can prevent employers from exposing themselves unknowingly to tax issues and litigation.
"To get started, one of the first automated processes a small business owner needs to incorporate into their business is an online payroll system," says Bolin. "Business owners will be able to access their payroll accounts anywhere with just an internet connection. Employees can input their time in an easy to use time management system and employers get web-based reports customized to their businesses."
Kim Bolin works for Horizon Business Solutions (HBS), a unique full service accounting firm providing small to medium size businesses with revolutionary ways to human resources issues. For more information on this new software call Kim Bolin at (614) 577- 1700 or email Kim Bolin at bkimbolin(at)horizonbiz(dot)com.