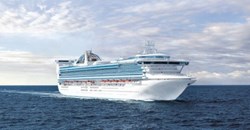 Our new Getaway cruises are a great new option for anyone looking for a quick way to escape from the daily grind.
SANTA CLARITA, Calif. (PRWEB) September 26, 2013
Today Golden Princess sets sail from Los Angeles on the first of a new series of Princess Cruises Getaway voyages. Known for offering longer itineraries, the company has debuted these new cruises along the West Coast offering a brand new way for passengers to enjoy a quick break in a sea-going environment of comfort and style.
Passengers can choose from three- and four-day sailings, perfect for sampling the line's onboard experience, as well as visiting a variety of Southern California destinations. Departing roundtrip from Los Angeles (San Pedro) aboard Golden Princess and Sapphire Princess, the Princess Getaway sailings take place throughout the fall and into the spring 2014 season.
"Our new Getaway cruises are a great new option for anyone looking for a quick way to escape from the daily grind," said Jan Swartz, Princess Cruises executive vice president. "Passengers can sample the Princess experience of fine international dining and world-class entertainment aboard our comfortably elegant ships. And, these cruises are perfect for celebrations such as a birthday, anniversary, reunion or girlfriends getaway."
Princess West Coast Getaway sailings for 2013-14 include:
3-Day West Coast Sampler – Both Golden Princess and Sapphire Princess sail roundtrip from Los Angeles on this three-day sailing with a call in Ensenada. Golden Princess cruises in 2013 depart on October 4, 7, 18, 21, November 1, 4, 15, 18, 21, 24 and December 1. Sapphire Princess sails on January 13, and March 11, 14, 21, 24 and 31, 2014.
4-Day West Coast Sampler – These getaways offer a choice of ports, with options to visit Catalina Island, Santa Barbara or San Diego in addition to Ensenada. In 2013, Golden Princess will sail to Catalina on September 26, October 14 and November 7; Santa Barbara on September 30, October 24 and November 11; and San Diego on October 10, 28 and November 27. In 2014 Sapphire Princess takes over, sailing to Catalina on Jan 5 and 20; Santa Barbara on January 16 and 28, March 17 and 27; and San Diego on January 9 and 24.
Getaway sailings are also scheduled throughout fall 2014 and spring 2015 as well.
Additional information about Princess Cruises is available through a professional travel agent, by calling 1-800-PRINCESS, or by visiting the company's website at http://www.princess.com.
# # #
About Princess Cruises:
One of the best-known names in cruising, Princess Cruises is a global cruise and tour company operating a fleet of 17 modern ships renowned for their innovative design and wide array of choices in dining, entertainment and amenities, all provided in an environment of exceptional customer service. A recognized leader in worldwide cruising, Princess carries 1.7 million passengers each year to destinations around the globe ranging in length from three to 107 days. The company is part of Carnival Corporation & plc.
Newsroom:
Additional media information is available at princess.com/news
For further information contact:
Karen Candy, kcandy(at)princesscruises(dot)com, 661-753-1540
Julie Benson, jbenson(at)princesscruises(dot)com, 661-753-1530