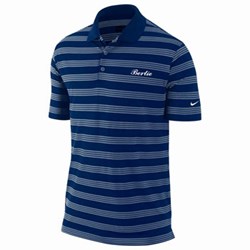 The shirt comes in a range of different colours, including light blue, dark blue, white and black.
Luton, Bedforshire (PRWEB UK) 30 September 2013
UK Based children's clothing company Nappy Head has introduced a new product that makes a great gift for a father. They now have high quality Nike Polo Shirts that can be customised with a name on the chest, making them a one of a kind clothing item.
These high quality polo shirts are not simply cotton material, they are a high performance sporting item. The shirts are made with 100% polyester, which has the famous Nike Dri-Fit technology. This type of technology will wick away moisture even while exercising or on a very hot day. This means that this shirt not only looks attractive, it will also help you to feel more comfortable while playing golf, walking or enjoying any other outdoor sport.
The shirt comes in a range of different colours, including light blue, dark blue, white and black. It can be personalised with any name or initial, in attractive script along the chest of the shirt. It is even possible to order your attractive and flattering striped polo shirt with gift wrapping, to make gift shopping even easier. The shirt makes a great Father's Day gift for your husband or dad, or even a birthday or Christmas gift for a friend or a family member who loves golf.
Nappy Head Expands with More Personalised Baby Clothes
As well as offering the personalised Nike Golf shirt, Nappy Head also has a great collection of personalised baby clothes and gifts for a new born. One of the notable products is the Cuski baby comforter. This is a special type of baby blanket that is designed to help infants settle and soothe themselves to sleep.
The Cuski is designed with organic bamboo fibre, which will absorb the comforting scent of mum and dad. You can sleep with the Cuski baby comforter for a night or two or carry it around in your clothing, so that it has your distinct aroma. Then, when you give the blanket to your baby the scent will help to calm them down.
The Cuski baby comforter can be customised to provide a unique and original baby gift, with the child's name embroidered on the soft and touchable fabric. Nappy Head also offers a number of other unique and special gifts for babies, including baby socks, baby grows and baby blankets.
Whether you are looking for a gift for mum, dad or baby, you are sure to find a unique, customisable and high quality present at Nappy Head.
About Nappy Head
Nappy Head is a UK based baby clothing company that was founded in 2002. Creator Sarah graduated with a degree in Product Design and created the original set of eight baby t-shirts in bright and vibrant colours.
After the launch, the company started to expand to include maternity wear, children's clothes and much more. Nappy Head grew to be a well-known provider of unique and creative babywear for fashion conscious babies and parents. Sarah's husband soon joined the team and the collection has steadily grown to have over 1,000 combinations of designs and colours. The company is now based in a state of the art warehouse and has grown to six employees. They are dedicated to providing baby clothing that is high quality and adhering to fair trade and ethical standards, making them a caring company with a difference.
# # #
For some more information on Nappy Head gifts for babies, mummies and daddies, feel free to contact them via phone at 01582 513 630 or email at info(at)nappyhead(dot)co.uk.