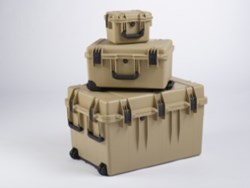 MTS will showcase these new Credo products at the annual IQPC Cold Chain Global Forum, Oct. 1-3rd at Chicago's McCormick Place South.
Minneapolis, MN –
September 26, 2013 (PRWEB) September 26, 2013 -- Minnesota Thermal Science (MTS), a global leader in providing the life sciences industry with a comprehensive suite of thermal protection packaging solutions for the safe transport of pharmaceuticals, tissue, diagnostics and blood supplies; announces the release of its next generation of product solutions.
The Credo DURACUBE product family has expanded from the original Series 4 1696 hard shell temperature-controlled container (96 hours) to include a new 3 liter and 57 liter hard case as part of its biopharma group. The DURACUBE product line is categorized into three classes: Credo DURACUBE BP (biopharma), Credo DURACUBE LT (light weight), Credo DURACUBE, HD (heavy duty) and provides a complete range of hard shell containers (between 2 liters and 96 liters) designed to strike an optimal balance between weight, durability and transit capabilities (up to seven days).
The new Credo PROMED product line was initiated following input from its valued clients interested in a portable, durable, stylized and easy to use thermally protected soft-sided bag solution. The Credo PROMED is currently available in three sizes: 2 liters, 4 liters and 8 liters with a payload protection range between 24-48 hours. These portable medical transporters address the daily needs of pharmaceutical representatives and medical couriers looking to protect products samples from extreme temperatures during their call/delivery routes. Likewise, the first responder market is interested in a quick "grab and go", durable, soft-sided thermal protection solution for various medical materials used in emergency situations. Utilizing MTS' patented, award winning Credo technology, these portable bags provide unprecedented, consistent temperature protection up to two days with easy, no mess single, quick packout assembly.
Minnesota Thermal Science will be premiering these new Credo products along with revealing two new prototype portable designs at the upcoming Annual IQPC Cold Chain Global Forum Oct. 1-3rd being held at Chicago's McCormick Place South. For further information regarding MTS and its product and service solutions go to: mnthermalscience.com or call toll free 1.877.537.9800.
Media/Marketing Contact:
Kathie Blumer
763.412.4803
marketing(at)mnthermalscience.com