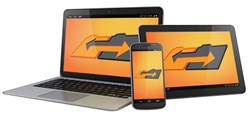 We offer the most secure synchronization, combine it with features no one else offers, and we deliver the best customer service.
Bellevue, Wash. (PRWEB) September 26, 2013
Laplink Software, Inc., announced today an update to its ground-breaking synchronization software and the results of a thorough analysis comparing Laplink Sync to a variety of competitors.
Although just released earlier this year, Laplink Sync has proven to surpass competitors with superior peer-to-peer connectivity options, secure synchronization, enhanced features such as easy conflict resolution, and the most comprehensive, free customer support. Platforms presently supported are Windows and Android; Mac and iOS are coming soon.
"Laplink has always stood behind the quality of its products," explained Laplink's CEO, Thomas Koll. "This latest analysis backs up our assertion that Laplink Sync is the best synchronization software available for mobile devices and PCs."
As a peer-to-peer synchronization product, Laplink Sync offers a safer synchronization process than cloud-only solutions. Where cloud-based options are vulnerable to server availability and cause users to rely on Internet connectivity, Laplink Sync gives users the option to connect their devices directly. This keeps their information more secure and significantly reduces the risk of data loss.
Laplink has also partnered with Intel to provide more connectivity options to users with Laplink Sync. By integrating with Intel's Common Connectivity Framework (CCF), users are able to connect and synchronize their music, photos, and other files with Wi-Fi, Bluetooth, and more.
Beyond a broader variety of connectivity options, Laplink Sync includes proprietary technology from Laplink. The revolutionary UtraSync™ technology intelligently synchronizes files that have been added, deleted, or otherwise changed. This makes the process incredibly simple for users and provides the fastest possible synchronization available.
For those who desire cloud options, Laplink Sync supports and extends that functionality. While other clients restrict size limits, file types, and more, Laplink Sync doesn't. Laplink Sync supports all files types and places zero restrictions on file sizes. It even offers an activity and event log that clearly shows users what's been synchronized, moved, and otherwise updated.
Laplink Sync also provides the most comprehensive customer support at no charge. In addition to detailed user guides, FAQs and tutorials, Laplink also provides support to U.S.-based customers and technical support through online incident submissions, forums, email, live chat, and even telephone.
"Laplink Sync takes the common themes among synchronization software and vastly improves them," said Koll. "We offer the most secure synchronization, combine it with features no one else offers, and we deliver the best customer service."
Laplink Sync is available at http://www.laplink.com for $39.95, which includes two licenses for Windows and one license for Android. Users who purchase will receive free licenses for iOS and Mac when Laplink Sync is released for those platforms, currently expected by end of October. Individual licenses for Windows are available at http://www.laplink.com for under $20; Android licenses are available from Google Play for under $3.
About Laplink Software, Inc.
For over 30 years, Laplink has been the leader in providing software used for PC migration, remote access, file transfer, and synchronization. The privately-held company was founded in 1983 and is headquartered in Bellevue, Washington.