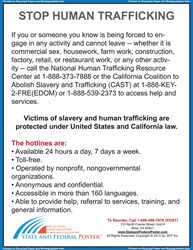 Human trafficking in California is an issue that cannot be swept under the rug by employers and the general public.
Los Angeles, CA (PRWEB) September 27, 2013
State and Federal Poster, Inc is proud to offer a commitment to safety and compliance by staying up to date on the mandatory compliance posters in all fifty states. One of the newer mandatory compliance posters in California is the human trafficking poster which is required in various types of establishments including airports, farm labor locations, liquor stores, bus stations, urgent care centers, truck tops, and rest areas.
This poster must be posted in a clearly visible area near a public entrance where employees and the general public have it in their peripheral view. Failing to post this will create a civil liability for a business in California. This first violation is a fine of $500 followed by a secondary offense fine of up to $1,000. Ensure your business is up-to-date with compliance posters today!