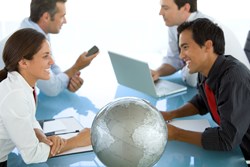 "Understanding what needs to be planned for, keeping employees safe and facing the aftermath are just some of the areas GEG helps businesses address."
New York, NY (PRWEB) September 27, 2013
Minimizing business disruptions caused by emergencies of any kind are becoming standard practice for companies, institutions and government agencies. However, businesses of all sizes need to have a plan to protect staff and assets. Inherent risk was once part of doing business and where possible it was minimized. New programs introduced by Global Elite Group look at the changing business world where success and growth are mixed with the unpredictable and hazardous nature of the working environment. "There isn't a day that goes by that a company doesn't face risk and the potential for that risk to completely disrupt business," stated William McGuire, President and CEO of Global Elite Group (GEG), Garden City, New York.
There have been headline making disasters and threats with historic ramifications affecting people and their workplaces. For a business to pick up and start over, after a major event, begins with a first step; a risk assessment. "Threats come in all shapes and sizes from weather related to terrorism. Understanding what needs to be planned for, keeping employees safe and facing the aftermath are just some of the areas GEG helps businesses address," explained McGuire.
The risk assessment will yield information which will be turned into an emergency response plan. "Our team will provide the guidance on what appropriate actions need to be taken including a timeline with support staff recommendations," stated Joseph D'Ascoli, Director of Special Operations for GEG. Some recommendations, depending on the nature of the emergency, will include both evacuation and business continuity strategies. There are regions of the U.S. where business preparations will depend on the location and types of threats that are specific to the area, but that is not always the case as some parts of the nation have experienced intense weather related activities that have never been seen. "Flooding is not restricted to areas near an ocean or major waterway, urban streets and communities experience flash floods with destructive force," continued D'Ascoli. Extreme flooding impacting structures built to withstand tremendous forces are driving new standards to be developed, especially after Hurricane Sandy and the Colorado floods.
Some emergencies have advance notice, such as a hurricane, most others do not. GEG will provide the support staff, consulting expertise and off-site communications needs before, during and after an emergency. Additional services have been added to assist in the post emergency phase which include long-term security solutions, canine security teams, insurance recovery as well as other essentials the company will have prior to being fully operational. "GEG has set high expectations and through the experience of the emergency teams at all levels and the knowledge put into all the planning provided, the end result is a safe and successful return to full operations," D'Ascoli stated.
Having a lasting business with a foundation to meet the future includes weathering the volatile nature of external and internal business threats by having a solid business continuity plan in place.
About Global Elite Group: With offices located throughout the world, the company provides security and emergency management services for companies of all sizes and is known for its emergency contingency planning in all markets and its aviation security programs for over 28 airlines located in the U.S. and abroad. The company is always expanding service offerings to compliment the security needs of individuals, companies, high profile travelers and events. The company is TSA certified to provide screenings to individuals and groups. Global Elite Group is a full-service event security management company with security details available for deployment to cover small venues to large-scale multi location events. Other services include risk assessments and asset protection.