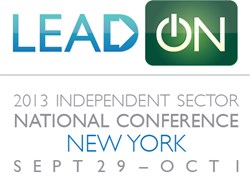 'The IS Conference is where members of the nonprofit and philanthropic community can put their heads and hearts together to share the vision, courage, and strength to turn ideas into action,' explained Diana Aviv, president and CEO of Independent Sector.
New York, NY (PRWEB) September 26, 2013
To Register As Media: xionl(at)independentsector(dot)
More than 1,200 leaders of the charitable sector will convene here next week at the 2013 Independent Sector National Conference. Reporters are also invited to attend a breakfast on Tuesday morning at 7:30 a.m. where nonprofit leaders will discuss the new interest in and momentum behind measures of effectiveness other than overhead.
The conference begins on September 29 at the New York Hilton Midtown in Manhattan. More than 200 speakers, among them Pulitzer Prize winners, entertainment and news personalities, numerous CEOs, and international nonprofit leaders, will discuss the most pressing issues facing organizations in the sector. See a full list of sessions and speakers here.
###
Independent Sector is the national coalition that leads, strengthens, and mobilizes nonprofits, foundations, and corporate giving programs. IS members represent tens of thousands of affiliated organizations that advance the common good across the country and around the world. To learn more about Independent Sector, please visit: IndependentSector.org.