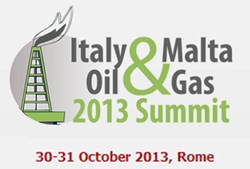 It's an IRN Summit!
Rome, Italy (PRWEB UK) 27 September 2013
The interest for Mediterranean offshore over the last three years brings again to the spotlight Italian oil and gas reserves, which after a ban reversal, have seen a growing interest with existing companies expanding their local presence or restarting projects that fell under 2010 restrictions.
Italy's Val D'Agri oil basin has been characterised as one of the largest in Europe, and its potential is still being discovered with many experts considering the Italian natural reserves completely underappreciated.
The Italy and Malta Oil & Gas 2013 Summit is taking place on 30-31st October at the Hotel Parco dei Principi in Rome to explore the investment opportunities in the Italian and Maltese oil and gas industry and indicate the key factors that will make any investment in the sector of the region commercially successful.
The summit will be a senior level networking platform that will analyse the oil and gas industry of Malta and Italy from every aspect including topics like; investment opportunities in the Italian oil and gas industry; implications of the Italian legal framework; geology, opportunities, technologies and the potential of Southern Italy and Sicily onshore and offshore; E&P data in Italy; economic prospects of the Italian oil and gas sector; current exploration status of the oil basins in Italy; E&P activities in Basilicata; oil operations in Italy; shale gas potential in Italy; mature wells; downstream effectiveness; refining sector in Italy; Malta offshore petroleum exploration opportunities; pipeline routes in Malta; geopolitics influencing Italian and Maltese oil and gas industry; sustainable developments projects in Italy and Malta and HSE.
The Italy and Malta Oil & Gas 2013 Summit will be held under the auspices of the Ministry for Energy and the Conservation of Water of Malta, the Ministry for the Economy, Investment and Small Business of Malta and is sponsored by DNV, Spectrum, OSRA, TGS, Shield Consultants and Galea Carmi.
More information on the full agenda of the Italy and Malta Oil & Gas 2013 Summit can be found online at http://www.italymaltasummit.com.