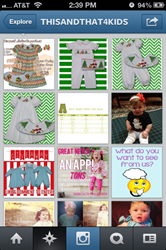 Miami, FL (PRWEB) September 26, 2013
This and That for Kids Hand Smocked Children's Boutique notices a rise in Instagram sales and has already begun growing their very own Instagram Shop. Social media outlets are becoming a necessity for e-commerce businesses and with the help of Soldsie, a mobile-friendly app that issues invoices directly to people who leave comments on Facebook and Instagram posts, This and That for Kids has been able to successfully grow a loyal fan and customer base.
This and That for Kids owner, Dunia Debk, feels that Instagram is the next wave of e-commerce.
"I have grown a fan base of over 80,000 fans on my Facebook business page," says Debk, "but with all of the constant changes on Facebook not all my fans are being reached."
Noticing the drop in her fan reach, Debk decided to explore another popular outlet, Instagram. Shortly after deciding to focus on both the social media outlets instead of just Facebook, Soldsie contacted Debk letting her know that their services would now be available through Instagram as well. This has taken the hassle out of selling on both networks since all sales go back to one portal, the Soldsie App.
Since joining Soldsie's customer base in July 2012, including a short hiatus, This and That for Kids Hand Smocked Children's boutique has successfully sent over 3,000 invoices through the app, with that number growing daily.
Instead of making customers come to them, This and That for Kids is going to their customers and since buying simply involves typing 'sold' in a comment under the picture, they are making the process as simple as possible for both themselves and the consumer.
This and That for Kids owners have turned their passion into a family business and ship about 300-400 items a week. Together, the Debk family selects and photographs merchandise, uploads images and ship the items. Soldsie manages posting, processing and invoicing for their sales.
"Selling on Facebook was a great way to reach out to the public and grow our business, we feel that Instagram will have the same effect and help us grow to be an even bigger business reaching more of our target audience and converting them into loyal fans," explains Debk.