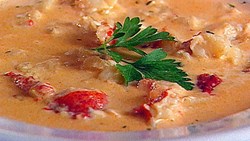 (PRWEB) September 27, 2013
As the crisp fall weather arrives and temperatures drop, visions of cozying up on the couch with a blanket as the fire crackles enter into most minds. For the seafood connoisseurs at Get Maine Lobster, this vision includes steaming bowls of Maine Lobster Stew and Maine Clam Chowder. This vision can now become a reality as these hearty, soul-warming soups are now available for next-day delivery at GetMaineLobster.com.
Clam chowder is a classic Maine favorite and Get Maine Lobster's includes an ample amount of hand-shucked soft shell clams that have been freshly harvested from mid-coast Maine. Local dairy products, native potatoes grown on a saltwater farm, and Maine sea salt is combined to create this chowder's creamy smoothness and robust clam flavor that is uniquely Maine. For only $30.00, GetMaineLobster.com will deliver one quart of its Maine Clam Chowdah. Don't stop at just one, this is a great dish to serve as a side or main course for dinners for two or larger gatherings. Pair this with Get Maine Lobster's Maine Crab Dip for only $39.99 and dinner is served!
For anyone looking to host a dinner or prepare a romantic meal for two, few things are as decadent and satisfying as a bowl of Maine lobster stew. GetMaineLobster.com uses only the freshest, highest quality Maine lobster meat, and its Maine Lobster Stew is loaded with it, including a full claw in every serving. Local dairy products and Maine sea salt are combined with a more-than-generous serving of Maine lobster meat to develop the rich, buttery flavors of Maine Lobster Stew, now available for next-day delivery at just $42.00 for four servings.
To learn more about GetMaineLobster.com, browse its wide range of seafood offerings, and to access other lobster recipes or view current specials, visit GetMaineLobster.com or call (866) 562-4817. Stay updated and Like us at Facebook.com/GetMaineLobster or follow us at Twitter.com/GetMaineLobster. For even more lobster news and recipes go to JustAddLobster.com.
About GetMaineLobster.com
GetMaineLobster.com, a division of Black Point Seafood and Black Point Gourmet, hand-selects the finest Maine lobster, seafood and beef products for convenient distribution throughout the United States. Their passion is to make fresh, quality seafood readily available to customers across the country, which is why they buy from only the most trusted, well-established suppliers to ensure that they receive the finest products available.
GetMaineLobster.com was selected out of the more than four million small American businesses served by Chase bank to represent its new Platinum Business Checking product for its 2013 national advertising campaign.