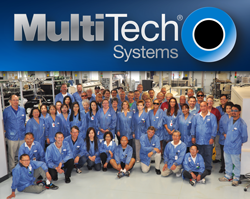 The overall result is a well designed product, built in a great facility, by an incredible workforce with an average tenure of more than 15 years. - Del Palacheck, VP of Manufacturing
MINNEAPOLIS, MN (PRWEB) September 27, 2013
Multi-Tech Systems has been named a Minnesota Business magazine finalist for Manufacturer of the Year: Midsize. The winners were honored at a September 24 gala in Minneapolis. Finalists were selected based upon what sets them apart from other manufacturers in the state, as well as quality, productivity and other attributes.
"It's a great honor to be considered for this award," says Del Palacheck, Vice President of Manufacturing of Multi-Tech Systems. "We work hard to carry out everything that this award stands for."
Multi-Tech Systems, a leading global manufacturer of high-tech solutions to enable machine-to-machine (M2M) communications, was founded by the late Dr. Raghu Sharma in 1970. Now, run by Patricia Sharma, the company has chosen to keep its manufacturing facility in Minnesota to maintain quality and control. Multi-Tech is ISO: 13485 certified, a step above ISO:9000, a quality system that includes traceability of parts down to the component level and processes to enable robust manufacturing design and customer service. While medical manufacturers often carry this certification, there are few other types of manufacturers like Multi-Tech that do. The company can also be credited with significant sustainability efforts, including manufacturing processes that produce no hazardous sewage products, recycling programs, and a new energy management system producing less Class I and Class II carbon dioxide emissions. Multi-Tech also employs more than 200 people in Minnesota.
Palacheck continues, "Our workforce is highly trained and cross-trained. A question to any employee will result in a proud and thorough answer. The overall result is a well designed product, built in a great facility, by an incredible workforce with an average tenure of more than 15 years."
To learn more about Multi-Tech Systems, visit http://www.multitech.com.
About Multi-Tech Systems
Multi-Tech Systems has been delivering industry-leading M2M (machine-to-machine) communications solutions since 1970. With more than 22 million devices deployed worldwide, Multi-Tech focuses on helping customers achieve the shortest path to M2M connectivity – from concept to implementation and total lifecycle management. Whether a project is simple or very complex, Multi-Tech has the resources and expertise to work with any development team to customize a hardware or software solution that maximizes speed to market and return on investment. With carrier-approved external and embedded modems and gateways, Multi-Tech makes it easy and fast to connect your devices to networks anywhere in the world. We work with clients in almost any market to enable cellular, analog, Wi-Fi®, Bluetooth® and GPS capabilities into a solution to achieve superior business results. If we don't have it, we will develop it. Multi-Tech established its reputation for Innovative Designs and Innovative Solutions by obtaining 80+ patents and certifications from more than 30 carriers and over 80 countries. Multi-Tech has made M2M Simplified for thousands of customers around the globe.