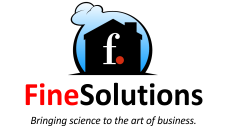 "...we are seeing our company accelerate at a very fast rate."Dan FineManaging Partner
Lynnwood, WA (PRWEB) September 30, 2013
It is widely held that 7 is the lucky number, but Fine Solutions has found luck in 5. For half a decade, Fine Solutions has repeatedly shown the world that they're not just here to stay, they're focused on growth and the team is succeeding.
Since 2008, Fine Solutions has grown to be the largest and best-known Microsoft Dynamics Partner in the Northwest. The true mastery that sets Fine apart is their ability to create lasting professional relationships through their company motto: Business Is Personal.
"Fine Solutions first ranked on the Inc. 500|5000 list five years ago when the IT industry was still reeling from the recession," said Dan Fine, Managing Partner of Fine Solutions. "Now, as businesses in the US are recovering, we are seeing our company accelerate at a very fast rate. We continue to expand and refine our own internal systems and processes to keep up with this rapid growth. Placing on this list five years consecutively confirms that our hard work is paying off."
The proof of their success is no clearer than in the rapid and sustainable growth seen in the past 5 years and the company appreciates the Inc. 500|5000 organization taking notice. It helps, too, that the company has seen record amounts of repeat customers and business referrals across their three Microsoft Dynamics practice areas: CRM, AX, and GP. Strong ties with the community, such as software-focused user groups and Dynamics ERP and CRM thought leaders, create a network of contacts which increases the company's resources and reputation. The word is definitely out that Fine Solutions provides consistent, high-quality services to companies across the West. What's gaining volume in the ears of these companies is that they actually care how businesses run and the people behind their desks.
Fine continued, "There is only one way to be listed five consecutive years on Inc's list. It can only be attributed to the vigilance, hard work, and personability achieved by our smart and committed employees, and their skills to consistently be the best at delivering CRM and ERP solutions."
About Fine Solutions
Since 2004, Fine Solutions has helped companies with all areas of business, organization and insight. Though their client base is focused in the Northwest, Fine has a rich customer portfolio that stretches across the United States and into Australia, Canada and Mexico as well. Their business model consists of three practice areas which help companies align their growth targets to Fine's offerings and services: Fundamentals, specializing in Enterprise Resource Planning software (Microsoft Dynamics AX and GP); Growth, experts in business development processes (Microsoft Dynamics CRM and customized solutions); Insight, proficient in business intelligence (dashboards and customized reporting). These areas give Fine Solutions the unique distinction of housing four of the most important business development needs under one roof. What's more, they are proficient in delivering them on-time and on-budget.