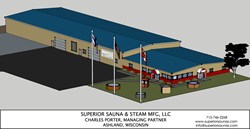 Ashland, WI (PRWEB) September 30, 2013
If you Google the word "sauna," you'd find a Wikipedia listing and links to some of the most popular sauna brands. But, if you scroll down further, you might be surprised to see a Benoit, Wis., business making its mark in the sauna industry. Superior Sauna and Steam's new building, located on highway 2 in the new Bayfield county business park next to Ashland Ford, will house its expanding manufacturing and retail/wholesale business.
Chuck Porter founded Superior Saunas in 2004 after a disappointing experience buying a personal sauna in 2001. At first, he focused on manufacturing log saunas while selling parts and accessories on the side. That was a losing proposition, he soon discovered, and by 2007, he went another direction.
Today, his business centers on indoor sauna kits and providing parts. His firm has become the largest dealer of sauna heater parts in North America. He offers from 500 to 1000 parts or pieces on his web site. In terms of market, he has gone global, knowing it's the only way his business can thrive.
"We always planned to be as global as possible," Porter explained. "We knew in order to make it and get the volume needed, we needed to be everywhere. Our goal has always been to be global."
To accomplish this, Porter has dedicated a lot of time and resources to his web presence. Over the years, this investment has definitely paid off.
"We get thousands of sales per year on our web site," he said. Some are small purchases, such as a sauna accessory, but those unique visitors rack up. Last year alone, his store had more than 150,000 unique visitors.
Porter, who has a long history in financial services, sales and working at international marketing companies, found his diverse business background worked well in this market. Today, he employs nine people full time and is enjoying 20 to 30 percent annual growth. That success results from motivating his sales team and continually investing, updating and staying informed about how to improve his website.
His customer base ranges from individuals to fitness centers, hotels and even military bases. Porter sells locally and has sent orders as far away as the Indian Ocean. This mix soon required him to expand, so he connected with Scottie Sandstrom at the Bayfield County Economic Development Corporation to explore sites close to his current one in Benoit, which is about 15 miles southwest of Ashland. He struggled, however, to find perfect parcel that provided the visibility and space needed for the new 24,000 square foot building he's constructing. After further discussion, Sandstrom connected Porter with Bayfield County to explore potential property options. The Bayfield County board recently zoned 40 acres of the 260-acre AERC as commercial, according to Administrator Mark Abeles-Allison. The parcels are along State Farm Road and provide easy access to Highway 137 and U.S. 2. Of this, Porter purchased nine acres. He anticipates the expansion will allow him to add five more employees during the next few years.
Abeles-Allison said the rezoning and purchase are good for area residents. "Job creation is a priority for Bayfield County and the region. A second reason is putting the property back on the tax roll," he said.
Abeles-Allison also hopes the development will call attention to the site as a possible location for other businesses. The sale closed this summer and Porter hopes to break ground by early fall. Once in the new space, he'll be expanding his merchandise to include hot tubs as well. Porter says he's pleased with the new location not only because it provides the space he needs, but also the prime location.
"We do a lot of Canadian business," Porter said. "Highway 2 is a major corridor which gives us extra visibility to this customer."
For more information contact Chuck Porter at (715)746-2268.