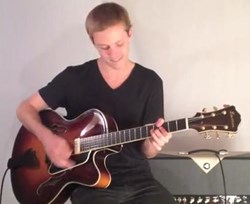 (PRWEB) September 27, 2013
Los Angeles session guitarist John MacLennan demonstrates a jazz-inspired chord progression used by Davis on his seminal jazz album Kind of Blue.
MacLennan shows guitarists how to play these jazz voicings of common blues chords which produce a unique sound. The theory behind this progression is that it should be used as accompaniment, or "comping" for another guitarist to play a solo. By backing a solo with these unique jazz-shaped chords, musicians can maintain a steady rhythm and provide space for bandmates to explore scales and improvise.
An interesting technique covered in this jazz lesson is playing the bass note using the thumb. By wrapping the thumb around the neck, guitarists free up their other fingers to play more notes, forming unusual and fun chord shapes. Practicing the Miles Davis lick demonstrated in the video will help guitarists of all skill levels develop the reach and timing needed to play this jazzed up form of blues guitar.
MacLennan describes each chord, providing a step-by-step guide to the jazzy style he teaches, complete with direction on correct finger placement. In addition, a link in the video description leads guitarists to chord diagrams and tabulatures ("tabs" for short) they can use to practice offline.
Guitar Control instructor Jon McClennan is a renowned session guitarist and professional music educator. A composer and producer, MacLennan worked as an instructor for the Los Angeles Pierce College Department of Music. With a B.A. in ethnomusicology and jazz guitar studies from University of California, he's played guitar and ukele for the hit Fox show Raising Hope; appeared on the Disney series The Suite life of Zach and Cody; and composed, arranged, and produced three full length albums of his own.
About GuitarControl.com
GuitarControl.com is packed with resources, video tutorials and lessons, articles, and affordable DVDs to help new guitarists learn and experienced guitarists master their instruments. Guitarists of any experience level find guitar lessons from instructors with a broad array of music backgrounds and styles - blues, jazz, metal, classical, folk, progressive rock, punk, and everything in between. Guitarists can find relatable, easy-to- follow videos regardless of their ability or musical tastes.