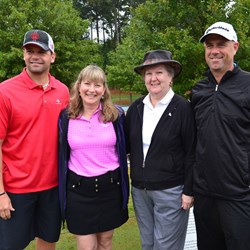 We must join our friends in the fight against this horrible plight.
Suwanee, GA (PRWEB) September 29, 2013
Paula Dorough again led a team of ladies dedicated to the fight against cancer as championed by the American Cancer Society. Due to their dedicated and yearlong tireless efforts, the 2013 CFS Pink Ribbon Golf Classic raised approximately $145,000 during Monday and Tuesday's "philanthro-sporting" event, which included a reception/auction and a scramble style golf tournament. Again, this year CFS Corporation was Presenting Sponsor. McMullan CPAs, the Lynch family, and an anonymous donor were Cure Sponsors. Former Atlanta Falcons receiver Brian Finneran emceed Monday's reception and auction.
The rainy morning of the tournament was emceed by 11Alive News anchor Ted Hall, himself the father of a cancer survivor. Ted opened the tournament by recognizing numerous attending cancer survivors including this year's honorees Lisa Beerman and Sandra Strickland pictured (inset) with Javy Lopez and Stewart Cink. Afterward balloons were released for for victims and survivors of cancer, to the distant melodic drone of Scottish bagpipes.
Pro golfer Stewart Cink was on hand to drive the first golf ball out of site in the morning haze. Former Atlanta Brave's catcher Javy Lopez literally teed everyone off at the 18th fairway by providing the long drive for each team. For more information on the Pink Ribbon Classic, to donate or become a sponsor for 2014, please visit http://www.pinkribbonclassic.org.
The American Cancer Society has funded 44 Nobel Prize-winning cancer researchers and has played a role in every major breakthrough in the fight against cancer. The CFS Pink Ribbon Golf Classic organizers welcome the community to take up the fight. All proceeds generated through the event directly support the ACS' programs including: Hope Lodge in Decatur, Georgia; Patient Resource Navigator at Gwinnett Medical Center; Road to Recovery and Look Good…Feel Better, a community-based free national program for women.
For another year CFS Corporation is the Presenting Sponsor of the Pink Ribbon Golf Classic. CFS Corporation is a national wholesale distributor of hard surface flooring with offices in Suwanee, GA, Oakland, CA, and Shanghai, China. CFS's premier high-quality products include laminate, engineered, solid hardwood, bamboo and cork flooring. CFS distributes throughout the U.S. and in select Canada markets through over 2,000 agents and retailers. "We must join our friends in the fight against this horrible plight;" Feng Liu, President, CFS Corporation. To connect with CFS visit http://cfscorporate.com. (2013, Atlanta, Georgia, USA by Bill Bryan)