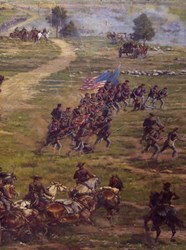 We hold a professional respect toward the privacy of each client. All services and transactions will be held in confidence.
Winston Salem, NC (PRWEB) September 26, 2013
The "Gettysburg Cyclorama" was painted by a French artist named Paul Dominique Philippoteaux and depicts Pickett's Charge on July 3, 1863. The painting was completed in 1883 and took over a year and a half to create. Philippoteaux spent several weeks at the Gettysburg Battlefield sketching and photographing the scene for research. He also interviewed survivors of the battle and based his work on their tales. Laster's Fine Art & Antiques now has this unique piece of American history available for sale.
Pickett's Charge was the bloodiest battle of the war for both the North and South and is considered by most historians as the turning point of the civil war. Pickett led troops down the middle of the Union army after failing to gain position the previous days when attacking the flanks. This was a valiant effort by his troops but they were unable to take position from the Union troops. This victory gave the North the momentum and confidence needed to win the war.
Although hard to believe based on its size, the painting was missing for some time, but was rediscovered in 1965. Local artist, Joseph Wallace King found the huge artwork behind a wall of a burned out warehouse. Mr. King purchased the painting and brought it to Winston-Salem. Upon his death, he donated the incredible piece of history to Wake Forest University where it remained until it was sold in 2007.
In 2007, the painting was purchased by a group of North Carolina investors. The appraised value of this piece ranges from $8.5-25 million based on its size, historic value and great condition. The offering price of the piece is listed considerably lower than that of the appraised value.
Owner of Laster's Fine Art & Antiques, Larry D. Laster was the exclusive agent for the painting's former owner, Wake Forest University. He is pleased to have such an American historical piece in his store. Laster offers his customers free verbal appraisals but does charge hourly for written appraisals. That being said, pieces in his store have set prices but he is open for offers as well.
Stop into their store located at 664 S. Stratford Rd. in Winston Salem, NC to browse the ever-changing inventory or to discuss an item to sell or have appraised, or call them at 336-765-5919.
About the company:
Laster's Fine Art & Antiques is an antiques store in Winston Salem, NC specializing in the appraisal and acquisition of rare and unique antiques, fine art and collectibles. Laster's Fine Art & Antiques also handles estate settlement and consignment; particularly estates of a high net worth. Since 1973, Larry Laster of Laster's Fine Art & Antiques has built a solid reputation for handling each appraisal, auction and commissioned consignment professionally and discreetly. Visit Laster's website, http://www.lastersfineart.com, for more information.