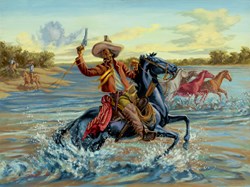 Ronald kil's spirited drawing is an "education on the range"...
Santa Fe, NM (PRWEB) September 28, 2013
New Mexico cowboy illustrator and artist Ronald Kil, http://www.casweckgalleries.com/index.php/santa-fe-artists/ronald-kil-western-art opens his western art show at CASWECK GALLERIES with more than a bang. His recent historical illustration work in the Palace of the Governor's book JACK THORP'S SONGS OF THE COWBOYS is part of the 2013 announcement of Mayor's Awards for Excellence in the Arts in Santa Fe, NM. TOM LEECH, printer of the book and Director of the Press at the Palace of the Governor and Book Arts advocate, will receive that honor in October. Tom's work and Ronald's illustrations continue to get high honors throughout the state. The book was also the recipient of the Ralf Emerson Twitchell award for significant contribution in the field of history. The Gallery will show original pen and ink works by Ronald as well as a limited edition collection of watercolors from the book. His oil paintings will also be on exhibit, including his latest oil commissions for the state of New Mexico Parks and Recreation Department.
Ronald Kil, known for his works around our State, was commissioned to paint the 100 foot mural for the Frank Brownell Museum of the Southwest , located in Raton, NM. The mural won the Award of Merit for significant contributions to the preservation, protection and promotion of the Santa Fe Trail from the Santa Fe Trail Association in 2011.
Ronald will also have his collection of children's books available, written by Marc Simmons. The Children of the West, illustrated by Ronald, is a five book series and the recipient of many awards including the New Mexico Historical Society, the Dorothy Woodward Award for Advancement in Education and a finalist in the Spur Award for Best Juvenile Book from the Western Writer's of America.
As the main illustrator for New Mexico Magazine for over a decade, Ronald Kil's show offers a historical look at New Mexico landscape and culture. Ronald Kil will show his latest historical oils and illustrations at Casweck Galleries located at 203 W. Water Street, Santa Fe, NM through October 13, 2013.
CASWECK Galleries is known for its extraordinary collection by the famed ERNEST CHIRIACKA. Mr. Chiriacka was a famous illustrator during the heyday of illustrators, working for such great publications as SATURDAY EVENING POST, COLLIERS, and ESQUIRE. Mr. Chiriacka illustrated the ESQUIRE PIN UPS for many years and also illustrated over 550 pulp covers. After that period was over, Mr. Chiriacka went on to great acclaim as an oil painter and sculptor, becoming known a s the living Remington while he was working. Mr, Chiriacka passed near the age of 97 in 2010 and CASWECK GALLERIES is currently the only place where is his great works are available for sale, although he is currently hanging in many Museums and private collections throughout the US and Europe.