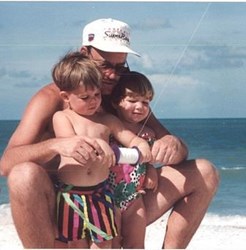 It is important for new parents to find a family vacation balance which includes mommy and daddy time.
Tampa, Florida (PRWEB) September 30, 2013
Planning a successful family vacation takes time and energy, and when that vacation includes a baby or toddler, it's not just when and where but how - the logistics can be daunting. To make a vacation with baby a reality, the New Beginnings folder offers new parents or new grandparents practical suggestions and solutions for planning vacations with mini kids - ages six weeks to five years of age.
According to Nancy Nelson-Duac, Curator of the Good Stuff for the popular family vacation planning resource, "To vacation with baby takes skill and perhaps a chill-pill. Babies and toddlers do not need vacations, free time or nap time but parents do. It is important for parents to find a family vacation balance which includes mommy and daddy time."
The good news for parents planning a vacation with a baby or toddler, more and more resorts, hotels and even spas have created ways to facilitate new parent happiness with onsite vacation benefits catering to mini travelers. From welcome packs and Fischer Price toys to baby massage and play groups for tykes, the menu of offerings is encouraging.
At the top of the list is FRD Resorts in Jamaica because of their well-established "Vacation Nanny" program. Smuggler's Notch in Vermont with great play space for tiny tykes and snow bunnies plus countless ways for parents to relax and rejuvenate. The Azul Beach Hotel in Cancun offers new parents a delightful atmosphere blending family time and romance in one vacation. Club Med Sandpiper Bay, a sunny option with all the fun included, a nice formula for stressed out parents. Tyler Place in Vermont has everything in place for tiny tykes and their parents - one price with everything included.
The New Beginnings folder also highlights products and services to make travel with baby easier including portable bath tubs, room safety kits, and travel accessories. For example: Free Like a Birdie has the right travel accessories to make the trip more efficient. Jet Set Babies ensures all the consumables baby will need - diapers, wipes, food, formula, and toiletries will be the vacation destination. And for those air bound with an infant, there is Baby B-Air Vest.
More vacation ideas featuring ideas for ages six weeks to five years of age may be viewed in the New Beginnings folder at theFamilyTravelFiles.com. For family travel news, follow The Family Travel Files on Twitter (@FamTravelFiles) straight from the homepage.
About theFamilyTravelFiles.com
Founded in 1998, theFamilyTravelFiles.com researches and posts the good stuff making it easier for parents or grandparents to plan great family vacations. The top-rated online family travel resource offers more than 1000 pages of family vacation ideas and trip planning information. The website specializes in destination and planning information, family travel advice, and family travel deals. The site features a number of vacation idea folders including Secret Places, All Inclusive, Reunions, SnowPlaces, and Away for the Holidays.