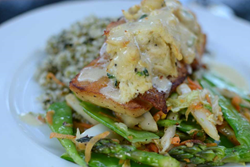 Charlotte, N.C. (PRWEB) September 30, 2013
Foodie Call continues to expand its delivery service options this month with its new partnerships of AZN Azian Cuizine, Café Nirvana and Bella Fresco Café. Now, Charlotte residents, workers and visitors can enjoy these restaurants in the comfort of their home, office or hotel room. The three dining services have not previously offered delivery – until now.
The local service, Foodie Call, partners with restaurants that traditionally do not offer in-house delivery services. Foodie Call partners with these types of restaurants to provide transportation, licenses, food delivery staff and more. Say a person has a craving for an AZN Crab Cake... now, rather than having to drive to the restaurant, battle traffic and wait in line, they can visit http://www.MakeAFoodieCall.com, place their order and then stay busy until their food arrives approximately 45 minutes to an hour later.
New options from AZN Azian Cuizine include dishes spiced with the sweet and spicy flavors of Japan, China, Szechuan, Thailand and Korea. Choose from appetizers like the Mongolian Beef Satay marinated in a ginger soy sauce, gluten-free miso soup finished with fragrant scallions, or bento boxes with Thai basil chicken or Malaysian curry chicken steamed with coconut milk.
Meanwhile, Café Nirvana dishes out traditional Indian cuisine like the house special Biryani cooked with shrimp, chicken, lamb, and secret herbs and spices; homemade cottage cheese cooked in a mild curry sauce; and baskets of naan stuffed with spiced potatoes, onions and more.
Bella Fresco Café features fresh, crisp salads like the Pomegranate Salad tossed with pecans, cranberries, strawberries and blue cheese crumbles, or the Fetush Salad with pico de gallo and cucumbers, or the traditional Greek Salad with a homemade tangy dressing. They also offer wraps, pitas and sandwiches such as the Mexicano Pita Loco, grilled lime chicken with beans, onions, green peppers, jack and cheddar cheese, lettuce, sour cream and guacamole.
Foodie Call is open seven days a week, from Sunday through Thursday from 10:30 a.m. to 10:00 p.m., and from Friday and Saturday from 10:30 a.m. to 10:30 p.m. To order online, users can visit http://www.makeafoodiecall.com, enter the delivery zip code and then begin navigating through a variety of restaurants and ethnic cuisine, and rest assured that any specific food cravings will be quelled.
About Foodie Call, Inc.
Foodie Call is a multi-restaurant marketing and delivery service providing a delicious variety of Charlotte's best cuisine, beer, and wine to Charlotte metropolitan area residents, workers, and visitors. Foodie Call services Charlotte and the surrounding areas from Ballantyne to Lake Norman. The delivery company brings napkins, utensils, and drinks for a full complement to your meal. For special events, they can provide wine accompanied by gift boxes or items for themed events. For hours and menus, or to place an order, visit http://www.MakeAFoodieCall.com or call Benny, the catering manager, at 704-245-6575.
Contact:
Lindsay Yontz
Lindsay(at)MakeAFoodieCall(dot)com
308 E Worthington Ave.
Charlotte, NC 28203