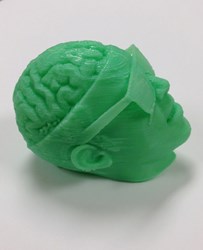 Additive Manufacturing is revolutionizing manufacturing—and the supply chain—as we speak
Medina, OH (PRWEB) September 26, 2013
With the debut of their new Point Of View Series (POV) lastweek at the LogiPharma trade show, Scott Sheldon turned heads to say the least.
The POV focused on the increasingly newsworthy subject of additive manufacturing and its affects on the supply chain industry. While they focused on healthcare for the sake of the show's audience, the impacts surely transcend industry verticals.
"Additive Manufacturing is revolutionizing manufacturing—and the supply chain—as we speak. The capabilities are endless and simply amazing. Imagine a world where a knee replacement is customized to the patient and printed in the operating room—serial number and all—and then sterilized an implanted in the patient," said CEO Scott Spyker.
"Think big picture, the sourcing and distribution of materials is where the technologies of additive manufacturing (a more technical name for 3D printing) will impact the supply chain. It is not simply limited to product production either: packaging and serialization improvements are in high demand across many different industries, if we can embed a secure serialization system into printing the packaging, that would increase piece of mind for security and deter counterfeiting."
To prepare for the show, Scott Sheldon used their 3D printer to print out small plastic models of a brain. The separation between the right and left side turned it in to a nice little business card holder as well.
About Scott Sheldon
Scott Spyker began the supply chain and logistics firm in 2004 in order to give a personal consulting experience to each and every client. Headquartered in Medina, OH the company prides their international experience across many industries—specializing in Health Care, CPG & Retail, and Industrial. Visit the website to learn more: http://www.scott-sheldon.com